I was recently asked to name a culinary icon, and the first person to come to mind was Maida Heatter.  I've been following her career for years and own all her books, my favorite being the Maida Heatter's Cookies book which is where you'll find Chocolate Whoppers.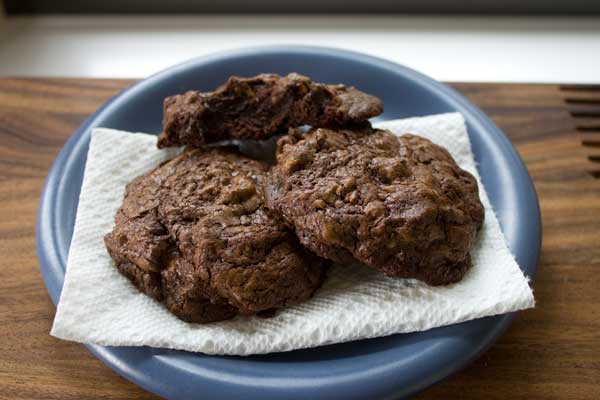 In the book, Maida tells a story about being served the cookies while dining at one of her favorite restaurants, The Soho Charcuterie. The chocolate cookies, which she hadn't ordered, were big, fat, beautiful and delicious, so of course she asked for the recipe. Surprise! They told her the recipe was actually hers. They'd taken it from her first book, increased the size of the cookies, and named the Chocolate Gobs. Maida's original version was called Charlie's Cookies, named after a friend of hers who was a World War II Pilot.
I've made these over and over throughout the years and they are one of my top favorites.  Mine never turn out quite as pretty as some others, but the inside tastes better and is less sweet than some.
Print Recipe
Maida's Chocolate Whopper Cookies
Chocolate Whoppers or Chocolate Gobs aka Charlie's Cookies -- a favorite!
Ingredients
2

ounces

unsweetened chocolate

chopped (56 grams)

6

ounces

semisweet chocolate

chopped (170 grams)

3

ounces

3/4 stick unsalted butter

(84 grams)

1/4

cup

sifted all-purpose flour

(30 grams)

1/4

teaspoon

baking powder

1/2

teaspoon

salt

2

eggs

3/4

cup

granulated sugar

150 grams

2

teaspoons

powdered espresso

not granular instant coffee

2

teaspoons

vanilla extract

1

cup

semisweet chocolate morsels

(170 grams)

1

or 2 cups toasted and chopped walnuts and/or pecans**
Instructions
Preheat the oven to 350°F. Line two cookie sheets with regular foil (as opposed to nonstick or parchment).

Place the unsweetened chocolate, semisweet chocolate, and butter in the top of a small double boiler or in a bowl set over simmering water. Stir until melted and smooth. Remove the top of the double boiler and set aside. You can also do this step in the microwave. I like to melt the butter first, add the chopped chocolate, stir so that the chocolate melts as much as it can from the heat of the butter, then microwave at 50% power stirring ever 30 seconds until melted and smooth.

Mix together the flour, baking powder, and salt, and set aside.

With an electric mixer, beat the eggs, sugar, coffee or espresso, and vanilla at high speed for two minutes.

Beat in the melted chocolate mixture on low speed just to mix. Add the dry ingredients and mix, scraping the sides of the bowl as necessary with a rubber spatula to incorporate the ingredients. Remove from the mixer and transfer to a larger bowl. At this point, make sure the batter has cooled to room temperature. If you add chocolate to warm batter/dough, it will melt into it.

Stir in the chocolate morsels and the nuts and if necessary, chill the dough for about 20 minutes or until it is thick enough to scoop.

Use a 1/3-cup metal measuring cup to measure the amount of batter for each cookie, put five cookies on each cookie sheet, one in the middle and one toward each corner. Use a rubber spatula to push the mixture into the measuring cup and then to scoop it out onto the lined sheet (the dough is gooey). Do not flatten.

Bake one sheet at a time or two sheets at a time, reversing the sheets top to bottom and front to back once during baking to ensure even baking. Bake for 16 to 17 minutes-no longer. The surface of the cookies will be dry but the insides will still be soft. There is really no way to test these; just use a portable oven thermometer before baking to be sure your oven is right, and then watch the clock.

When the cookies have cooled, use a wide metal spatula to release them and turn them over to air the bottoms a bit.
Notes
Maida uses 2 cups of nuts, but I only use about 1. This changes the yield of the cookies from 15 to about 12.