This week I've been obsessed with baking Bon Appetite's Lemon-Almond Pound Cake with limoncello. It's in the newest issue next to the editor's note. The cake sounds fabulous, but I can't justify buying two tubes of almond paste ($12) and a bottle of limoncello for a cake which we'll eat a few pieces of and get rid of.
Enter Taste of Home magazine. I'd almost given up on the idea of making that pound cake, when I came across what sounded like the perfect alternative to the expensive Bon Appetite cake. It's smaller, uses more practical ingredients, and the directions are more streamlined.
Fuzz and I made it this morning. It's excellent! Extremely moist and flavorful even on the first day. Pound cakes always taste better the second day. I haven't made the topping yet, but here's a picture of the cake.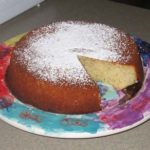 Print Recipe
Almond-Lemon Pound Cake
Pound cake with lemon and almond baked in a 9 inch round baking pan.
Ingredients
1

teaspoon

plus 3/4 cup butter

softened, divided use

2

teaspoons

confectioner's sugar

1

cup

slivered almonds

1

cup

granulated sugar

2

eggs

1/3

cup

sour cream

1

tablespoon

grated lemon peel

1

cup

cake flour

1

teaspoon

baking powder

1/4

cup

lemon juice
Topping
1

cup

each - frozen unsweetened raspberries

strawberries, blueberries

¼

cup

sugar

2

tablespoons

lemon juice

2

tablespoons

confectioners' sugar
Instructions
Grease bottom and sides of a 9 inch round baking pan with t teaspoon butter. Sprinkle with confectioners' sugar; set aside.

Place almonds and sugar in a blender or food processor; cover and process until finely ground.

In a small mixing bowl, cream remaining butter; beat in almond mixture until combined. Add eggs, one at time, beating well after each addition. Stir in sour cream and lemon peel. Combine flour and baking powder; add to creamed mixture alternately with lemon juice. Pour into prepared pan.

Bake at 350 degrees for 40-45 minutes or until toothpick inserted near center comes out clean. Cool on a wire rack for 10 minutes. Invert onto a wire rack to cool.

For topping, in a heavy saucepan, combine the berries, sugar and lemon juice. Cook and stir over medium low heat for 10 minutes or until mixture begins to thicken. Sprinkle cake with confectioners' sugar. Serve with berry topping.

servings