I've tried a lot of granola recipes, but the one I always come back to is from Kathleen Daelemans' book Cooking Thin. Unlike the higher oil crispy granolas, Kathleen's recipe makes a crunchy granola with a great vanilla flavor. The nuts make it kind of rich, so it's probably best eaten as a dry snack then in a giant bowl with milk.
Since I'm the only one around here who eats granola, I make this in small batches.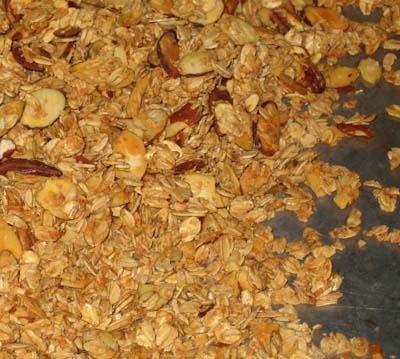 Kathleen's Crunchy Granola
Cooking Spray or olive oil for misting
2 cups rolled oats
1/4 cup pecans, coarsely chopped
1/4 cup sliced almonds
1/3 cup brown sugar (dark or light)
2 tablespoons water
Pinch salt
1 teaspoon vanilla extract
Preheat oven to 275 degrees F. Spray a roasting pan with cooking spray or mist with olive oil.
Stir together oats, pecans and almonds in a mixing bowl.
Place brown sugar, water and salt in a 2 cup microwave safe measuring cup. Microwave on high for 1 minute. Stir in vanilla. Pour mixture over oat mixture and stir until oats are coated with mixture.
Pour into pan and bake for 45 minutes, stopping to stir mixture every 15 minutes or so. Let cool completely. Store in an airtight container
Makes about 2 1/2 cups