It will be nice when I have an actual cookie recipe to share, but For now, I'll keep rambling about random things such as these Goji Berries, which I discovered last week.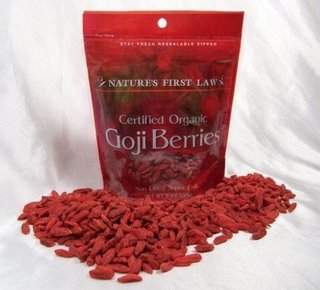 Apparently Goji Berries will put you in a good mood, cure all your physical ailments and add years to your lifespan. They are from Tibet, so this must be true.
I first saw these at our local apothecary, People's Pharmacy. People's keeps an open bag of Goji berries in the store for sampling. I tried a few then, but didn't buy any. The weird pharmacy smell was getting to me and nothing seemed appetizing.
A few weeks later I saw them at Whole Foods. I didn't buy them, but I did some more research later that day. Suddenly, I had to have Goji berries. I drove to Central Market, bought an 8 ounce $11.00 bag, and opened the bag in the car. The berries tasted like a cross between bubble gum, Craisins, dried cherries and medicine. As I drove around town eating Goji berries, I could feel my body getting healthier and healthier.
That evening, I put some Goji berries on the dinner table and asked Todd and Fuzz to give them a try. Todd wasn't crazy about the berries, but I think it was because he was eating a Boston Market Frozen Beef Noodle dinner and the Goji berries just didn't go with it. Fuzz, who had tried them earlier in the car, still didn't like them. More Goji berries for me! I said. At $11.00 a bag, I'm going to enjoy them. They can be used interchangeably with Craisins, so maybe I'll bake them into the world healthiest, super anti-oxidant cookie.
If you Google Goji Berries and don't feel compelled to seek them out, then you are either 1) less naive than I am or 2) not going to be around for my big 110th birthday party.