This is STILL one of my all-time favorite chocolate chip cookie recipes. I call them Carla Rollins Chocolate Chip Cookies, because the original recipe from Epicurious is credited chef Carla Rollins. So thank you, CR, wherever you are.
What's interesting is that this is one of those recipes some people just can't make. If you look at the reviews, you'll see 5 stars and 1 star. So something about them is difficult for some people, and I'd sure like to know what. Maybe they couldn't handle the idea of cracking an egg and measuring out 2 tablespoons?
If you follow the directions, the cookies should come out crispy on the outside, soft inside, and scraggly with lots of bubbles. They are also very big, as you can see here…..flat but sturdy.
Here's the close-up. When I melt the butter, I brown it in a pot over the stove rather than just microwave it until melted. The browned butter adds extra flavor to the cookie. In this picture, the cookie just came out of the oven so it looks a little underdone. It will cook as it stands.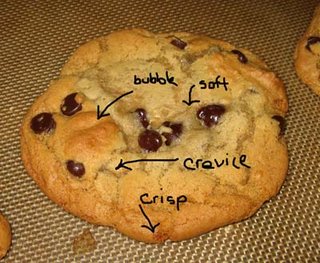 Over the years I've made the Carla Rollins Chocolate Chip Cookies many, many times. How you measure your flour, how you pack your sugar, the brand of butter (European style vs. regular), how much egg you actually end up using and possibly how your oven heats will influence the thickness. Also, you'll definitely get thinner cookies if you use chunks of chocolate instead of chips.