The raw foods movement fascinates me. It's not a lifestyle I plan to adopt, but I do enjoy seeing just how creative raw food chefs can be. Even Charlie Trotter, one of the greatest chefs of all time, has turned to raw foods in pursuit of what he calls "purity of flavor". This page has some interesting examples of every day raw cooking, plus links to some other pages which demonstrate the culinary wizardry of raw chefs. It looks like one important tool is a dehydrator. Maybe Santa Claus will bring me one of those for Christmas. For now, I have my food processor, which seems to be a critical tool in raw foods prep and is necessary for this next recipe – the Larabar Clone.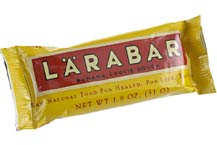 This raw foods fascination, plus my affinity for energy bars, is what sparked my interest in Larabars. Larabars, which are named after their creator (Lara) and which you'll find among the other energy bars, are uncooked. But what I like best about Larabars is the short ingredient list. Most Larabar flavors have fewer than 6 ingredients. The one I picked up yesterday listed dates, almonds, walnuts and cocoa. Larabars just seemed to be a bunch of healthy foods mashed together and packaged in brightly colored wrappers. I had to try making one myself.
Yesterday, while the rest of the family went swimming, I stayed home and tried to make Larabars using the formula of 1 part almonds, 2 parts dates, and whatever flavorings I felt like adding at the time. The bars turned out pretty good. Todd and Fuzz , who don't worry much about the caloric density of foods nor whether or not important enzymes have been cooked out, agreed that the bars were tasty. I liked them too, but would prefer to save one for the day I find myself hiking through the mountains, which is what Lara was doing which she invented these.
This is a recipe you can play with. Once you make the date mixture, you can add in whatever flavors you feel like. You can add in other nuts, boil down fruit juices into concentrate and add them, and you might even try using dried blueberries, cherries or other fruits. This recipe makes a small yield so you can first, see what you think. I've only tested these on my family.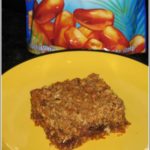 Print Recipe
Fun With Raw Foods
Larabar Clones
Ingredients
1 1/2

ounce

almonds

about 1/3 cup

3

ounces

pitted dates

about 14, if you don't have a scale

2

teaspoons

unsweetened cocoa powder

1

tablespoon

prune puree

1

tablespoon

quick cooking oats.
Instructions
Place almonds in food processor and process into crumbs. Pour into a bowl. Place dates in processor and process as much as possible. Add almond crumbs back into processor and process until well mixed. Add cocoa, prune puree and oats. Process a little more, then dump into a bowl and knead until ingredients stick together. Shape into a rectangle. If it's too sticky, knead in some more almonds or oats. Slice into about 3 bars or press into a square and cut out cute shapes.