Perusing the aisles of Target and looking at the endless varieties of granola bars inspired me to try making them at home. Using my trusty King Arthur Cookie Companion, I made their "Vermont Granola Bars". This is a slightly scaled down version of KA's recipe. King Arthur uses a 15×18 inch pan, but these are made in an 8 inch square pan so that you get about 8 bars.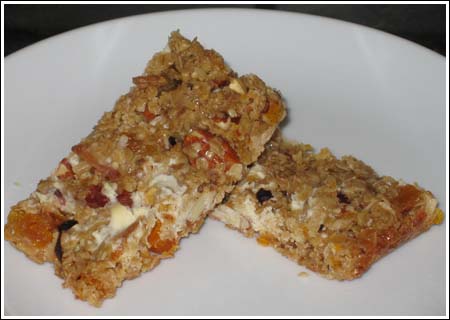 Here's a photo. Note the white streaks? Right before I patted them into the pan, I threw in some white chips. The white chips melted into streaks then set up again to make an even richer and more delicious bar.
Vermont Granola Bars
Small batch granola bars
Cooking time (duration): 35
Diet type: Vegetarian
Number of servings (yield): 6
Culinary tradition: USA (General)
Ingredients
1 1/3 cups

oats

1/3 cup

sunflower seeds

1/4 cup

coconut, shredded sweetened

1/4 teaspoon

salt

1/3 cup

almonds, roasted and coarsely chopped

1/3 cup

chopped apricots

4 tablespoons

butter

2 1/2 tablespoons

corn syrup

1/3 cup

maple syrup

1/4 cup

brown sugar

1 teaspoon

vanilla extract

2 tablespoons

white chips
Cooking Directions
Preheat oven to 450 degrees F. Line an 8×8 inch baking pan with non-stick foil.
Lay oats and sunflower seeds on a cookie sheet and toast for 5 minutes. Sprinkle coconut onto cookie sheet with oats and seeds; toast all for another 3-5 minutes or until coconut is aromatic and starts to brown around edges – keep an eye on it!. Place toasted oats/seeds/coconut mixture in a large mixing bowl; Stir in salt, almonds and apricots.
Place butter, corn syrup, maple syrup and brown sugar in a saucepan. Turn heat to medium and stir to mix as butter melts. Place a candy thermometer in the saucepan and allow mixture to come to a gentle boil. Boil without stirring until mixture reaches 245 degrees F. on thermometer – a little over "soft ball" stage. Remove from heat. Stir vanilla into hot syrup, then pour syrup into mixing bowl with oat mixture and stir to combine. At this point, you may want to throw in some white chips. They'll melt, but just let them do their thing and don't stir the melted chips into the batter.
Press tightly into the foil lined pan. Bake for 5 minutes. Without removing from pan, Score into 9 squares or 6 rectangles while still warm. At this point, the bars will be hot, crumbly and soft. Let them cool completely. When they are cool, lift parchment and remove from pan. They should be pretty firm at this point, but if you would like them to be even firmer, place them in the refrigerator.