This recipe is one I put together after looking at quite a few different crispy chocolate chip cookie recipes. It has no eggs, does not involve any heavy beating but rather gentle mixing. The key to the crispiness is the lemon/baking soda mixture which fizzes up and makes the batter airy and light. The batter is shiny and buttery. It looks like the kind of batter that will bake into flat, pancake-like disaster cookies. Not so. Even un-chilled, the batter puffed up and spread out just right. I baked some unchilled and chilled the rest of the batter for about two hours and the cookies did the same thing. So it seems you can bake these right away, or leave the dough in the refrigerator and bake them when you feel like it.
In the oven, the cookies puff up high and then sink into wavy mounds. The edges will be very crispy right out of the oven. The centers remain sort of chewy for a while, but will crisp up over time.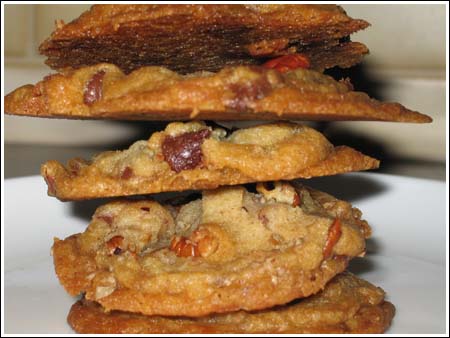 Thin and Crispy Edged Chocolate Chip Cookies
1 cup all purpose flour (spooned and swept)
1/4 teaspoon salt (if using unsalted butter, be a little more generous)
8 tablespoons butter, melted and cooled slightly (I used salted)
6 tablespoons granulated sugar
6 tablespoons light brown sugar, packed
1 tablespoon water
3/4 teaspoon vanilla
1/2 teaspoon baking soda
1 teaspoon lemon juice
1 cup semi-sweet chocolate chips (less if desired)
1/4 cup pecans, chopped and toasted (optional)
Preheat the oven to 375 degrees F. Line two baking sheets with parchment paper or Silpats
Thoroughly stir together the flour and salt; set aside. Place butter in a microwave-safe mixing bowl and heat on high until melted. Stir both sugars into hot butter and let mixture sit for about 5 minutes so that sugar can dissolve a bit. Mixture will be shiny and buttery; stir in water and vanilla.
Sprinkle baking soda over sugar mixture, but do not mix. Sprinkle lemon juice over baking soda and watch it fizz for half a second. Stir the fizzies into the batter to make a light, bubbly batter.
Add flour/salt mixture mixture and stir until incorporated. Stir in chips and toasted pecans (if using)
Drop by rounded teaspoonfuls onto lined baking sheets. Bake for 8-10 minutes. Mine took 10. The edges should be brown, the middles should be a bit paler. Caramel colored middles are okay too. Let cool for about 2 minutes on cookie sheet and then transfer to a rack of some sort to cool.
Makes about 2 dozen cookies
Note: Update on 7/29 — These cookies are really good on Day 1, but they don't keep as well as I'd hoped. By day 3, they were kind of gnarly tasting. Maybe they do need the egg.
Related posts: