This recipe was adapted from an old chocolate chip cookie recipe in the New York times. The ingredients are the same except for the amount of salt and the Lyle's Golden Syrup. I also changed the technique a bit. These are supposed to be very crisp and thin.  I need to make them again and post a new picture.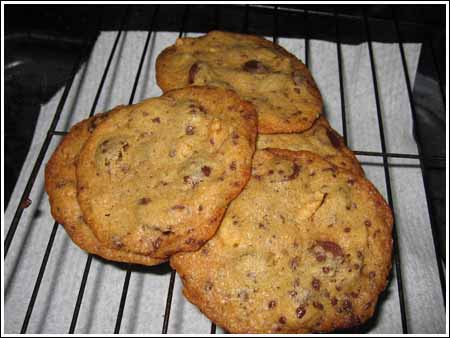 Crisp and Thin Chocolate Chip Cookies
It's been a while since I've made these, but they were pretty good.
Ingredients
1 3/4 cups all-purpose flour
3/4 teaspoon baking soda
1/2 (at most) scant teaspoon of kosher salt if using Morton brand, 1 scant tablespoon if using Diamond, if omitting nuts, use a bit less
14 tablespoons unsalted butter
1/2 cup packed light brown sugar
1/2 cup sugar
2 tablespoons Lyle's Golden Syrup or Corn Syrup
2 teaspoons vanilla extract
2 tablespoons milk
½ cup grated or pulverized bittersweet chocolate morsels
1 cup bittersweet chocolate morsels, left whole
1 cup chopped toasted walnuts or pecans
Instructions
Sift or thoroughly stir together the flour, baking soda and salt; set aside.
Place butter in a microwave safe mixing bowl and melt on high for 1 minute. Add brown sugar and white sugar to hot butter and let it sit for a minute. Using high speed of a handheld electric mixer, beat for about 3 minutes or until the mixture starts to become less shiny and somewhat lighter. Using a mixing spoon, stir in syrup, vanilla and milk until thoroughly blended. Stir in flour mixture. Chill mixture for about 10 minutes. (If mixture is still warm grated chocolate will melt - I learned this the hard way).
Take it out of the refrigerator and stir in the grated chocolate and chocolate chips. Chill dough for another 30 minutes or more.
Preheat oven to 325 degrees F. Line two baking sheets with parchment paper. Drop 1 inch balls onto parchment paper, shape them into neat rounds, then flatten to about ¼ of an inch, spacing 2 inches apart.
Bake for 12-14 minutes or until edges become golden brown. Let cool on sheet for about 5 minutes, then transfer to a rack to cool and crisp.
(Note: if your oven runs fast, you will want to check these at 10 minutes).
Related posts: