Shalom! And (almost) Happy New Year!
In keeping with my goal of "themed cookies" and with Jewish tradition, today's cookie features a touch of honey to ensure that the upcoming year is sweet. The recipe is called Honey-Pecan Sticky Bun Cookies.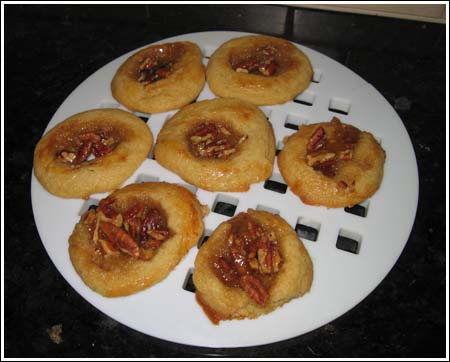 I found it on Recipezaar, though I have made a few changes and have listed them in the recipe below. As mentioned, I used honey. The original recipe sticky buns cookies called for dark corn syrup in both the cookie dough and the filling, but I used dark corn syrup in the dough and honey in the filling.
The dough looks a little odd with its lack of baking soda or baking powder and its use of dark corn syrup, but it's still tender and delicious. It does spread quite a bit, which might surprise you given the stiffness of the original dough – – so keep your cookie dough balls far apart.
You may want to double the filling. I did, and while some of my cookies overflowed onto the parchment, they still had a very generous amount of the buttery-honey-sticky stuff. A little overflow won't hurt anything so long as you are using the parchment paper. Also, I browned my butter and did not bother with the step of boiling the filling. I don't know why the original recipe even calls for that.
These were excellent and really did remind me of sticky buns. I was so happy with the honey results that I'll probably stick (ha ha) with the honey. However, I am curious to see how maple syrup would work, since one of the reviewers used it and said it worked fine.
Here are some of the cookies.
Honey-Pecan Sticky Bun Cookies
1 cup butter, softened (8 oz) — if you use unsalted, add a tiny, tiny, pinch of salt to it.
1/2 cup granulated sugar
1/2 cup dark corn syrup
2 large egg yolks
2 1/2 cups all purpose flour
Filling: (I recommend doubling this)
1/4 cup butter
1/2 cup confectioner's sugar
3 tablespoons honey (or corn syrup)
½ cup coarsely chopped pecans
1 egg white, slightly beaten
In a mixing bowl, beat together butter and sugar. Beat in corn syrup and egg yolks. Stir in flour. Cover with plastic wrap and chill for at least one hour.
In a saucepan, heat butter over medium until it melts and begins to turn brown. Remove from heat. Add confectioner's sugar and stir until well mixed. Stir in honey and pecans Set aside.
Heat oven to 375 degrees F. Line a cookie sheet with parchment paper. I don't recommend greasing because this batter spreads. Parchment paper is the way to go. Greasing might be okay, but will cause more spreading.
Shape dough into 1 1/2-inch balls and place balls 2 inches apart on cookie sheets. Bake the balls of dour for 5 minutes. Remove from oven and brush dough lightly with egg white. With a spoon, carefully make a deep indentation in center of each cookie; fill with about 1/2 teaspoon of filling (note, if you use more, your pecan mixture might overflow).
Return to oven and bake an additional 6 to 9 minutes or until light golden brown.
Cool 1-2 minutes; remove from cookie sheets.
Cool completely.
Yield: 3 dozen cookies.