The baking has going fairly well, despite my disappointment with the first recipe of the day, German Chocolate Upside Down Cake from allrecipes. This is why I hate being the first one to try random recipes which haven't been reviewed.
In all fairness to the cake, it looks okay when cut. But sheesh, this must be the ugliest cake I've ever made. It's also a bit too sweet. The crumb is good but the topping borders on cloying and I will not be making it again. I'd throw it away, but I've learned that people sometimes like the things I do not so I'll get some opinions this evening.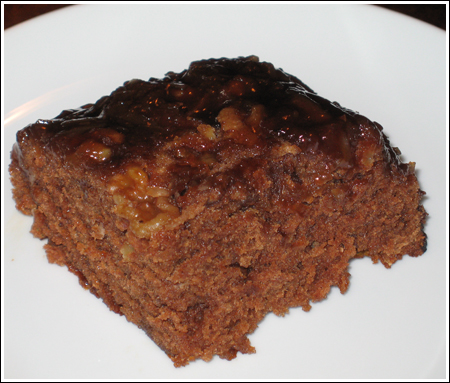 The second dessert is a vegan apple pie. It's actually called "apple crumb pie" and the recipe is from Allrecipes. I called it vegan apple pie, because I used Mrs. Smith's pie crust which contains no butter and used Earth Balance spread in the topping. This pie is going to be excellent. Then again, anything will look good next to that atrocity of a cake.