Vegan Oatmeal Almond Almond Chocolate Chip Cookies bake up high, dense-but-not heavy, and are packed with goodies. Next time, I'm going to throw in some dried cherries.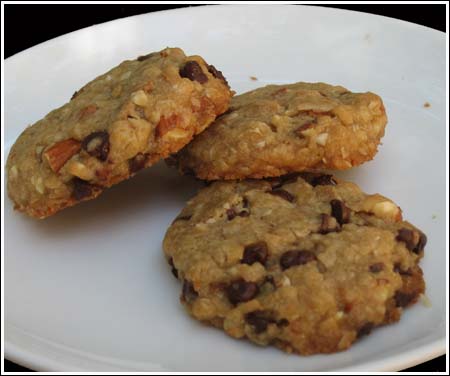 Also, this recipe calls for egg replacers. The brand I use is Ener-G.
Vegan Oatmeal Almond Chocolate Chip Cookies
2 cups all purpose flour, aerate and fluff before measuring (or weigh out 252 grams)
1/2 teaspoon salt
1/8 teaspoon baking powder
1/2 cup trans fat free shortening (such as Spectrum or Crisco Trans Fat Free)
1 Earth Balance buttery stick (one stick = 8 tablespoons), softened or any stick (114 grams) of vegan butter
3/4 cup dark brown sugar, packed
3/4 cup granulated sugar
Egg Replacers equal to 2 eggs, prepared as directed
2 teaspoons vanilla extract
1 1/4 cup oats, old fashioned or quick (not instant)
1/3 cup shredded sweetened coconut
1 cup whole roasted almonds, coarsely chopped
3/4 to 1 cup non-dairy chocolate chips (these are very good!)
Preheat oven to 350 degrees F. In a small bowl, whisk together flour, salt and baking powder.
In a mixing bowl, beat together shortening, softened buttery stick and both sugars. Stir in egg replacers and vanilla. Stir flour mixture into sugar mixture until incorporated. Stir in oats, coconut, coarsely chopped almond and chocolate chips.
Using a tablespoon to scoop, form rounded balls about 3/4 to 1 inch. Place balls on parchment or Silpat lined cookie sheets and press down to about 3/4 inch thickness with palm of hand. Bake for 12 minutes or until brown around edges. Let cool on cookie sheet for 5 minutes, then transfer to rack to cool.
Makes about 2 ½ dozen