I made up this recipe last year when I was on a Bailey's kick. Wait a minute. I'm always on a Bailey's kick! This is an easy, Jell-O pudding based pie and it's really good.
This is what today's pie looks like. I accidentally used chocolate pudding mix instead of my usual vanilla pudding mix. While the chocolate is delicious, I prefer this pie made with vanilla pudding mix because you get more of a flavor and color contrast between layers – a deep chocolate layer and a lighter, tanner, Irish Cream layer.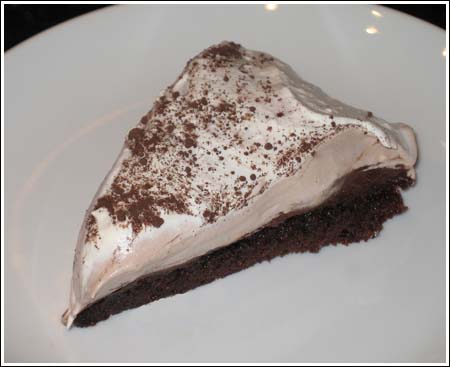 Bailey's Irish Cream Brownie Pie
1 (10.5 oz) packet fudge brownie mix (Betty Crocker)*
4 tablespoons oil
2 tablespoons water
1 large egg
1 (3 oz) packet Jell-O Cook & Serve vanilla pudding mix
1 1/2 cups milk
1/2 cup Bailey's Irish Cream
1 teaspoon unflavored gelatin
1 cup semi-sweet chocolate chips or 6 oz chopped semi-sweet chocolate
3 1/4 cups frozen non-dairy whipped topping, thawed (8 oz container)
1 tablespoon unsweetened cocoa powder
Preheat oven to 325 degrees F. Grease a 9-inch deep-dish glass pie plate very well.
In a mixing bowl, stir together brownie mix, oil, water and egg until mixed. Spread brownie batter in pie plate; bake for 20-23 minutes or until cooked, but still fudgy. Set aside.
Place a mixing bowl (approximately 2 quarts) next to stove.
In a saucepan, whisk together pudding mix, milk, Bailey's and gelatin. Turn heat to medium and cook, whisking constantly, until mixture thickens and starts to boil. Turn off heat. Pour approximately 1 cup of the hot pudding mixture into bowl next to stove. Add chocolate chips (or chopped chocolate) to hot pudding mixture in saucepan and stir until chocolate melts (no need for extra heat). Pour hot melted chocolate/pudding mixture over brownie crust, spreading to just shy of the edge.
Lay a small sheet of waxed paper over both chocolate mixture in pie plate and Irish Cream mixture in bowl; let both cool to room temperature. This takes a little over an hour, so go do something else.
When cool, fold 2 cups of whipped topping into the bowl of vanilla pudding/Irish Cream mixture. Spread Irish Cream mixture over melted chocolate/pudding mixture which you have already spread over the crust; Reserve remaining whipped topping.
Chill for about 4 hours. Spread reserved whipped topping over top. When ready to serve, sift cocoa powder over top.
Makes 10 servings