Every year the city of Austin turns one of its moonlight towers into a giant Christmas tree. The tree is located in Zilker Park and is viewable from many parts of the city – especially Loop 1/Mopac which cuts through the city going north and south. One tradition is spinning under the tree, which is open to visitors. It's a dizzying experience, to be sure. After spinning, families take a stroll along the Trail of Lights, a mile-long path decorated with lights and holiday scenes. You have to see it to believe it, so here are a few pictures. I tried to take more but the Christmas lights interfered with my cameras setting and all the pictures had dots. This is the only one that turned out.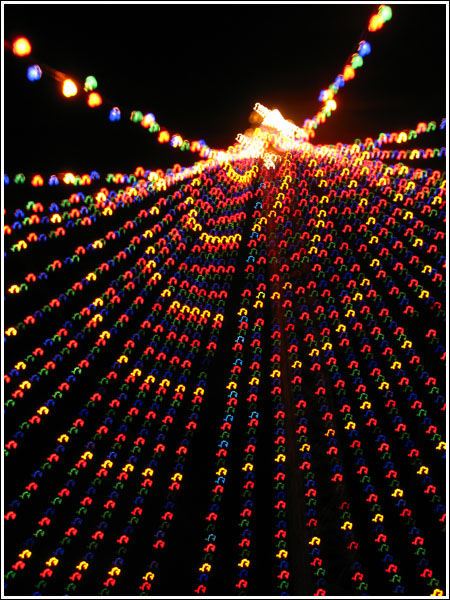 Here's a good slide show by someone who really knows how to use a camera.
It's been a fun week, and today is special too. It's the first day of Hanukkah and there's a birthday in our family. To celebrate, I have made two new cookie recipes, both of which were put out by food manufacturers.
The first recipe is a chocolate chip cookie made with almond paste. It's from Odense – the almond paste people.
The second recipe is from M&M's. It's an M&M cookie with a twist. (New link to recipe).
Almond Chocolate Chip Cookies — These were okay, but not quite what I expected. They were moist and tender. The cookies I baked look nothing like the cookies in the Odense photo. I kind of suspected this would be the case because their cookies are tan even though the recipe contains 1/4 cup chocolate syrup. My cookies are mucky looking. The flavor is good, but I'd like to try these using golden syrup or brown sugar syrup instead of chocolate syrup. Also, the cookies on the Odense site look big, dry and kind of crackly. Mine are rather flat and definitely not dry. If you make these, please let me know how yours turn out.
The second cookies have an interesting flavor thanks to the graham cracker crumbs. I didn't have any M&M baking bits, so I just stuck a few regular M&Ms in for color and used semi-sweet chocolate chips. These were different, but again, they turned out tender rather than crunchy. If you like tender cookies, you might like these. I'm on the fence here.