Update: I posted this recipe a while back with a goofy photo featuring a cute snowman Christmas ornament. Here's a more recent photo of Outrageous Chocolate Chip Peanut Butter Cookies.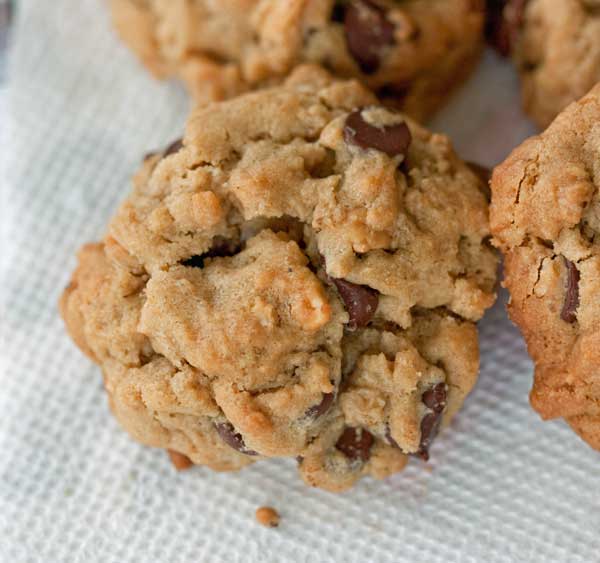 Outrageous Chocolate Chip Peanut Butter Cookies are just as good now as they were back when I discovered them on Allrecipes.com.  The cookies have crispy edges, chewy centers, and bumpy texture courtesy of oats, peanut chunks (if you add nuts or use extra crunchy peanut butter) and chips.
Outrageous Chocolate Chip Peanut Butter
Outrageous Chocolate Chip Peanut Butter
Ingredients
1/2 cup granulated sugar
1/3 cup packed brown sugar
4 oz (1 stick) unsalted butter
1/2 cup peanut butter, mainstream sugar added type**
1/2 teaspoon vanilla extract
1 large egg
1 cup all-purpose flour (4.5 oz)
1 teaspoon baking soda
1/2 teaspoon salt (use ¼ if using salted butter)
1 cup semisweet chocolate chips
1/2 cup rolled oats
Instructions
Preheat oven to 350 degrees F.
Cream both sugars and butter. Beat in peanut butter, vanilla and egg.
Stir together flour, baking soda and salt. Add to batter and stir until incorporated. Stir in oats and chips.
Drop by tablespoons on to lightly greased (or parchment lined) cookie sheet. Bake 10 to 12 minutes.
Let sit on cookie sheet for about 3 minutes, then transfer to a wire rack to finish cooling.
Notes
I've played around with the size of these cookies over the years and have settled on slightly rounded tablespoons or cookies that are a little over an 1 oz each. I always get at least 24 cookies. Using European style butter results in a slightly thicker cookie, and not greasing the pan also inhibits spreading. I use parchment or foil -- never spray or grease.
Related posts: