I like my key lime pie very tart, so I decided to add a little True Lime to a traditional key lime pie from Epicurious. I think the True Lime really did add some extra zing.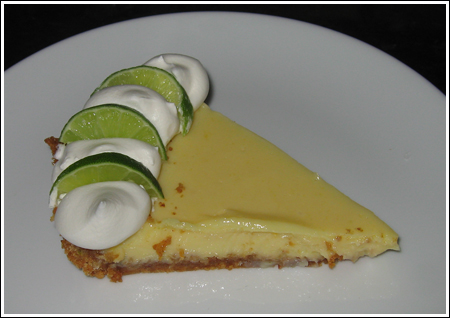 Key Lime Pie
Crust:
1 1/4 cups graham cracker crumbs
1/4 crushed or finely chopped almonds
2 tablespoons sugar
5 tablespoons butter, melted
Filling:
1 (14-oz) can sweetened condensed milk (Eagle Brand)
4 large egg yolks
3/4 teaspoon "True Lime" (optional) — may substitute a teaspoon or so of lime zest
1/2 cup plus 2 tablespoons fresh or bottled key lime juice
Topping:
3/4 cup chilled heavy cream plus sugar to taste
Preheat oven to 350 degrees F. Grease a 9 inch pie plate.
Stir together graham cracker crumbs, crushed almonds, sugar, and butter in a bowl, then dump mixture into pie plate and press into the bottom and slightly up sides. Bake crust in middle of oven 10 minutes and cool in pie plate on a rack. Leave oven on.
Make filling. In a mixing bowl, stir together condensed milk and egg yolks. Stir in lime powder, followed by juice. Pour filling into crust, Lay a sheet of foil loosely over top and bake for 15 minutes. Cool pie completely on rack (filling will set as it cools), then chill, covered for 8 hours. Whip cream into soft peaks. Add sugar to taste and pipe along edge of pie. Decorate with sliced key limes if you have some extras.