I love cookies, but being an avid baker and cookie taster comes with a few strings attached. String one being that I have to exercise every day and string two is that my portions are pretty small. What I've found is small portions of dense, rich, delicious foods are just as satisfying so long as you balance them out with something low calorie and nutrient rich, such as steamed vegetables, salads, etc. etc. etc. You know where I'm going with this. What I'm trying to get to is that I read a site called "Hungry Girl" pretty religiously. If a new low calorie, nutrient packed product comes out and Hungry Girl rates it high, I buy it. She's introduced me to a few new friends – Dr. Praeger, Amy, and my new friend, the Vitabrownie, which I swap out for cookies sometimes.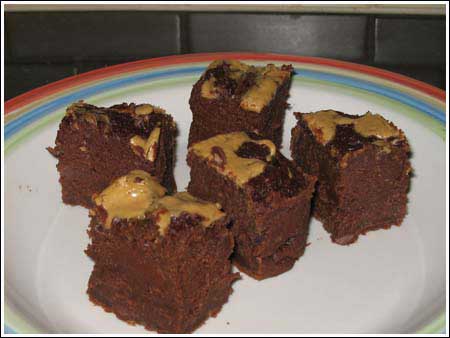 Every once in a while, Hungry Girl throws out a recipe of her own and this is one of them.
The calorie count is low- a 1.3 oz "brownie/fudge thing" for 64 calories? As for the taste, I need your opinion. I made these yesterday as directed by Hungry Girl. They taste okay, but have a pumpkin twang which I am not particularly fond of. I'm curious to hear what others think. The only ingredient change I made was to use 2 tablespoons of low fat peanut butter rather than HG's recommended "Better Than Peanut Butter".
Here's what they look like like. Good luck finding the right pan size! I used a small loaf pan which I think was about 3×8 or 4×8. I just left out about 5 oz of batter.