Moving on to the third chocolate muffin – Diana's Double Chocolate Muffins from Diana's Desserts.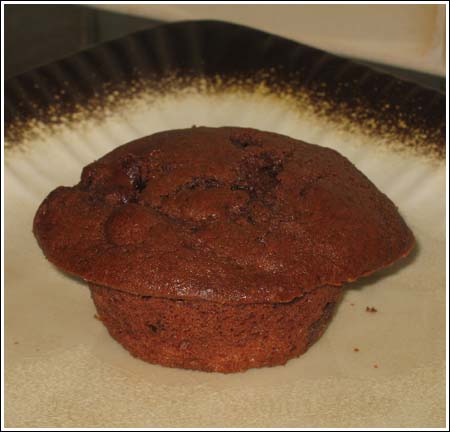 As expected, these were kind of cupcake-like. They were sweeter and a bit richer than Nigella's and could be eaten for both breakfast and dessert. They also rose very nicely and had a great texture. Diana's muffins (see her picture) look a bit different than mine. I wanted muffins with big rims, so I ignored her advice to fill the tins 3/4 full and instead, filled the tins to the top. I also used a muffin tin with smaller than average indentations, which made for even more top, less stalk. Next time, I'll probably just follow Diana's directions precisely.
Fuzz and I both loved these. They have enough chocolate to double as dessert, but could also be a rich breakfast.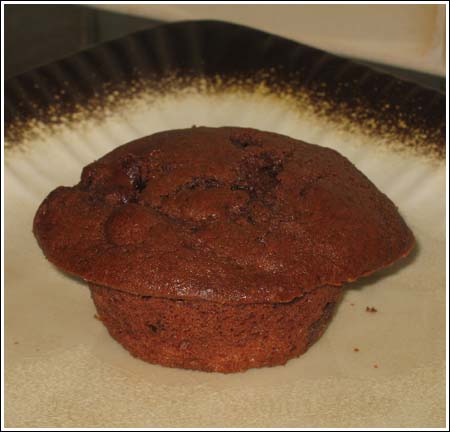 Diana's Chocolate Muffins
Diana's Double Chocolate Muffins
Ingredients 
3

ounces

unsweetened chocolate

chopped

1

cup

granulated sugar

1/2

cup

unsalted butter

softened

2

eggs

1/2

cup

sour cream

1/2

cup

milk

2

cups

all-purpose flour

3/4

teaspoon

baking powder

1/2

teaspoon

baking soda

1/2

teaspoon

salt

1

12-ounce bag semisweet chocolate chips

Additional semisweet chocolate chips

for topping muffins
Instructions 
Preheat oven to 375 degrees F (190 C). Spray 6 giant-size muffin cups or 12 regular muffin cups with flour-added cooking spray. (I used flour-added Pam)

In a microwave-safe bowl, melt chocolate in the microwave on medium-high heat for 30 second intervals, stirring in between, until smooth. Set aside.

Using an electric mixer, cream sugar and butter. Beat in eggs, then add sour cream and milk. In a small bowl, stir together flour, baking powder, baking soda, and salt. Pour flour mixture into butter mixture and stir together by hand. Stir in melted chocolate and chocolate chips.

Fill each muffin cup about three-quarters of the way full with batter, and if desired sprinkle some chocolate chips over top of batter. Bake for about 20 minutes for standard-sized muffins or 25 minutes (mine took 25) for giant muffins, or until a toothpick inserted into the center comes out clean. Transfer muffins to wire rack to cool completely.

Makes 6 giant or 12 standard muffins.