When making the three hour drive from Austin to Houston, it's customary to take a rest-stop in the town of La Grange, specifically Weikel's, a gas station and bakery known for their kolache. Back when my grandparents had a second home in La Grange, we'd pick up a batch for them and share them at breakfast the next morning.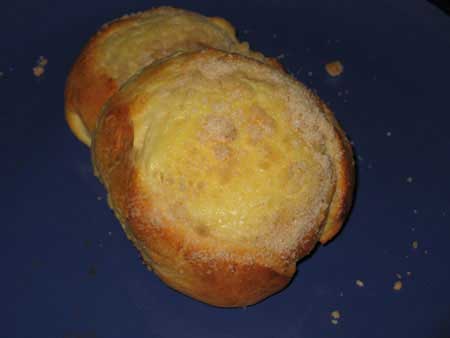 But enough reminiscing. Rather than live in the past, I decided to try making my own. I'd never done it before, so to get started I looked for a recipe on Texas Monthly's website.   You have to use the search function to find their authentic kolache recipes, and so far I've found three.  This is the one I tried, though it is adapted somewhat to be made with a stand mixer and dough hook.  You can definitely knead by hand, but I've found I always get much better results using a dough hook.
For this recipe, you proof the yeast.  If you're using quick yeast, you'll want to skip this step and put the yeast in with the flour mixture.
A raw kolache with some filling. Notice my dough is a little *too* stiff. I should have added a tad more milk. Remember, I cut the recipe down to 1/3 so there was room for error. Next time, I'll be more careful. I might even try the recipe with bread flour.
The fillings and the crumb topping came together very easily. There are two fillings here — an apricot filling and a cream cheese filling.  The crumbly looking on is a crumb that you sprinkle over the bun and around the filling.  It is optional.
And that's all. No more pictures. I am really excited about making these again, perhaps with bread flour and definitely with a lighter hand on the flour scooper. Even though mine were a little on the heavy side, they tasted great. As a bonus, my house smells like Weikel's.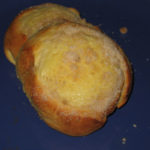 Print Recipe
We Gotcha Kolache!
An authentic Kolache recipe with a cream cheese filling
Ingredients
Dough
3

pkgs dry yeast

1/2

cup

warm water

1

teaspoon

sugar

2

sticks butter

3/4

cup

sugar

3

egg yolks

2 3/4

cups

milk

scald and cool to lukewarm

7 1/4

cups

flour

more or less as needed

3

teaspoons

salt
Posypka Topping
1

cup

sugar

1/2

cup

flour

1/2

teaspoon

cinnamon

2

tablespoons

melted butter
Cream Cheese Filling
16

oz

cream cheese

2

egg yolks

1/2

cup

sugar

grated rind of one lemon

1

teaspoon

vanilla
Instructions
Dissolve yeast in the 1/2 cup warm water. Sprinkle with 1 teaspoon sugar and set aside to proof.

In the bowl of a stand mixer fitted with a paddle attachment, cream sugar and butter. Add egg yolks and salt and mix well. Add the dissolved yeast, 1 cup of the flour and mix slowly with an electric mixer. Add the milk and continue adding as much of the remaining flour either with a spoon or with the mixer on low. Dough should be moderately soft and neither sticky nor too dry. You may use more flour, you may use less.

Attach the dough hook and knead with the dough hook for about 5 minutes or until dough is smooth and elastic.

Rub an empty mixing bowl with butter, put the dough in it, cover and let rise until doubled in bulk, about 1 to 1 1/2 hours.

Punch dough down and turn out onto lightly floured surface. Pinch off egg size portions and roll into a ball using the palm of your hands in circular motion.

Grease two or three rimmed baking sheets. Place the dough pieces about 1 inch apart and brush with melted butter.

Spray a piece of plastic wrap with cooking spray, cover loosely and let rise for an hour.

While rising, mix together ingredients for the Posypka Topping and the cream cheese filling.

Make an indentation in each risen ball and fill with filling. Sprinkle with posypka topping and let rise again for 20 minutes. Bake in a preheated 425-degree oven for about 10-15 minutes. Brush kolaches with melted butter as they come out of the oven.