Last night I made another cake – an interesting one from Cooking Light. It can be found on the CL recipe finder and below. The only change I made was NOT to line the pan with waxed paper. The wax paper company says it's perfectly fine to line cake pans with wax paper, but friends have reported problems with smoking, so why risk it? I used flour-added Pam and didn't need any sort of paper. If you don't have flour-added cooking spray, then your might try a round of parchment.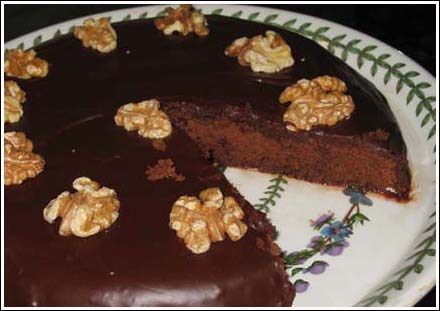 The only drawback to this recipe is it requires at a lot of equipment, including a food processor and an electric mixer for beating the egg whites. However, if you get your equipment lined and up and ready, you'll be able to put this together pretty quickly. I actually did it while I was making dinner.
So was it worth dirtying up the food processor and breaking out the electric mixer? Absolutely! I definitely appreciate that it has only 30% fat and a bit of nutritional value, but it's rich taste and great texture is sure to be a hit with people who aren't interested in nutrition stats. Case in point, my dad. I'll have to get a review from him tomorrow.
Chocolate-Walnut Cake from Cooking Light
Dates, which have a remarkable affinity for chocolate, stand in for butter in this rich, elegant cake. Ground walnuts contribute both depth of flavor and beneficial omega-3 fatty acids, while a touch of canola oil ensures a tender, moist texture and even more omega-3s. Round out the dessert with a dollop of vanilla low-fat frozen yogurt and some fresh raspberries.
CAKE:
Flour Added Cooking spray
1/2 cup chopped pitted dates
1/2 cup unsweetened cocoa
1/2 cup boiling water
1 teaspoon instant coffee granules
1 (1-ounce) slice firm white bread
1/2 cup walnut halves, toasted
1/3 cup all-purpose flour, lightly spooned and swept
1/4 teaspoon salt
2/3 cup granulated sugar, divided
2 tablespoons canola oil
1 teaspoon vanilla extract
1 large egg
3 large egg whites
GLAZE:
1/3 cup unsweetened cocoa
1/4 cup semisweet chocolate chips
1/4 cup boiling water
1 tablespoon dark corn syrup (or Golden syrup!)
1 teaspoon instant coffee granules
1/2 teaspoon vanilla extract
1 cup powdered sugar
Preheat oven to 350°. Coat a 9 inch round pan with flour-added baking spray. Stick a 9 inch round of parchment paper on bottom. NOTE: I just sprayed the pan with Flour-Added Pam.
Combine dates, cocoa, boiling water, and 1 teaspoon coffee granules; let stand 20 minutes. Place bread in a food processor and process into crumbs (about 1/2 cup). Place crumbs in a large mixing bowl.
Reserve 10 of the walnut halves. Combine remaining walnut halves, flour and salt in bowl of food processor and process until fine. Pour flour mixture into bowl with breadcrumbs. Place date mixture, 1/3 cup of the granulated sugar, oil, vanilla, and the one whole egg in food processor, and process until smooth, scraping the sides of bowl once. Pour the date mixture into bowl with flour mixture.
In yet another bowl, beat egg whites with a mixer at high speed until soft peaks form. Gradually add the remaining 1/3 cup granulated sugar, 1 tablespoon at a time, beating until stiff peaks form. Gently stir one-fourth of the egg white mixture into batter; gently fold in the remaining egg white mixture. Spread batter into prepared pan. Bake at 350° for 25 minutes or until cake springs back when lightly touched. Cool in pan for 10 minutes on a wire rack, and remove from pan. Remove the parchment. Cool completely on wire rack. (Note: I turned mine directly onto the serving platter. Normally, I'd use a rack but this cake is kind of delicate. Also, I liked how not using a rack made the bottom even moister).
To prepare glaze, combine 1/3 cup cocoa and the next 4 ingredients (cocoa through 1 teaspoon coffee granules), stirring until smooth. Stir in 1/2 teaspoon vanilla. Cover and chill for 1 hour. Gradually add powdered sugar to the cocoa mixture, beating with a mixer at medium speed until smooth and thick.
Place cake layer on a plate. Spread the glaze evenly over top and sides of cake. Arrange reserved walnut halves on top.
Yield: 10 servings (serving size: 1 wedge)