Update:  This is an old recipe and it's fine, but I've updated it since and recommend you use this recipe for Cream Cheese Filled Kolaches (you can still swap it out for blueberry filling) or better yet, this one for Kolaches with Sour Cream Dough.
I had so much fun making the first batch of kolaches that I decided to make some more last night. For this second batch, I paid closer attention to the measurements and steps so that I would feel comfortable sharing the recipe on-line. Below is the scaled down version of the original from Texas Monthly. I weighed out the flour and ended up using 12 1/2 ounces of bread flour – about 2 3/4 cups lightly scooped. My advice is to add the flour in ½ cup increments until the dough is soft, but not too sticky to handle. You can knead by hand, or throw the dough in a food processor or Kitchen Aid . The recipe requires a lot of rising time, but is actually very easy and especially fun because you get to be creative with the fillings. For my first batch, I used apricot and cream cheese. For the second batch, I made a blueberry filling using some frozen berries I had on hand. Next time, I'll probably use a combination of cream cheese and blueberries. Kolaches are fun.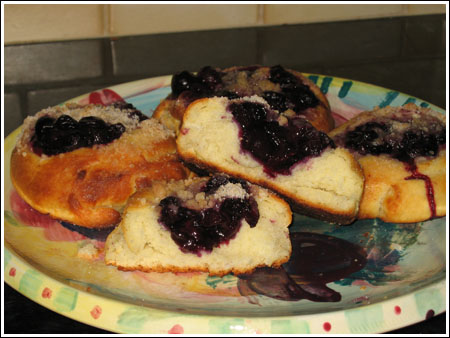 Small Batch Sweet Kolache Recipe
1 cup milk
2 1/4 teaspoons active dry yeast or 1 packet
1 teaspoon sugar
5 1/2 tablespoons unsalted butter, softened
1/4 cup sugar
1 egg yolk
1 teaspoon salt
2 3/4 cups plus more if needed, lightly spooned and swept bread flour (12 ½ oz by weight)
1- 2 tablespoons melted butter for brushing
In a saucepan, scald milk and remove from heat. Stick a thermometer in the saucepan and let milk cool to 115 degrees F. At 115 degrees F, stir in the yeast and 1 teaspoon sugar. Mixture should get bubbly, which proves the yeast is alive.
Meanwhile, in a large bowl, beat together butter and remaining 1/4 cup sugar. Add egg yolk and salt and mix well.
Stir the milk/yeast mixture in with butter mixture, then stir in 1/2 cup of the flour. Stir in remaining flour, ½ cup at a time, to make a soft dough yet not-too-sticky to handle dough. Continue kneading until smooth and elastic, about 5 minutes. If you want, you can place the bowl on a Kitchen Aid and let the kneading hook do the work.
Place dough in a greased bowl, turn once to grease surface. Cover and let rise until doubled in bulk, about 1 1/2 hours.
Punch dough down and turn out onto lightly floured surface. Pinch off egg size portions and roll into a ball using the palm of your hands in circular motion. Place about 1 inch apart on a greased cookie sheet. Brush kolaches with melted butter, cover with a cloth and let rise until light, about 1 hour. While kolaches rise, prepare filling and topping (see below).
Use your fingers to make an indentation in each ball and fill each opening with about 1 tablespoon (or more) of filling. Sprinkle with crumb topping and let rise again for 20 minutes.
Bake in a preheated 425°F oven for about 10-15 minutes. Mine took a full 15.
Quick Blueberry Filling
1 1/2 cups frozen blueberries
2 tablespoons granulated sugar
1/4 cup water
1 teaspoon cornstarch
Lemon juice to taste
Place frozen berries in a saucepan set over medium heat. Add sugar. Stir together water and cornstarch to dissolve cornstarch, then pour over berries. Cook over medium, stirring often, until mixture thickens and liquid changes from cloudy to clear. Remove from heat and add some fresh lemon juice – about a teaspoon. Let cool to room temperature. When ready to use in kolaches, use a slotted spoon to lift berries from syrup. Save syrup for another use and fill kolaches with cooked, syrup coated berries. I used frozen blueberries, but I think frozen strawberries or even raspberries would work.
Apricot filling
3 ½ oz coarsely chopped dried apricots (about 1/2 cup)
Enough water to cover
4 tablespoons sugar — more to taste
Cook dried apricots slowly in enough water to cover until fruit is soft and water is cooked out (about 12 minutes). Do not cover or fruit turns dark. Add sugar and mash with a potato masher until well blended. Fills 8
Cream Cheese Filling
6 ounces cream cheese, softened
1 egg yolk
1/3 cup granulated sugar
1/4 teaspoon lemon zest
1/4 teaspoon vanilla
Stir the ingredients together.
Cinnamon Crumb Topping "Posypk"
1/3 cup sugar
1/4 cup flour
1/4 teaspoon cinnamon
1 tablespoon melted butter
Mix all ingredients together until mixture resembles coarse meal. This makes enough to cover MORE than 8, so you can scale it down more it if you wish.
Related posts: