A few months ago, Fuzz told me she wanted to have a Night at the Museum themed birthday. For a second, it seemed like a great idea. Then I came to my senses and realized how difficult it would be to get Night at the Museum napkins, plates, and favors. Doing a knock-off theme incorporating museum items would be simple, but Fuzz wanted hers to be more in line with the movie. She even came up with a game called "Pin the Flashlight on Larry" which I thought was quite smart, though I dreaded having to draw the giant Larry. I stopped thinking about it for a while and hoped she'd change her mind.
Last night, while going through the Oriental Trading company catalog, she told me to forget about Night at the Museum. Instead, she wanted her theme to be Purrr-Fect Kitty Party which was straight out of the catalog. As clever as Night at the Museum sounded, I am relieved. I think a cat cake will be much more fun than a Larry cake.
The point I'm getting to, is that I'm going to be practicing some fun cakes over the next few weeks.
Here are some previous cat cakes – both San Rio characters, which translate easily to cake.
I made this Hello Kitty cake for Fuzz's second birthday party, but dropped it face down on the floor before the guests arrived. Sad story. Told it too many times. Pattern is here.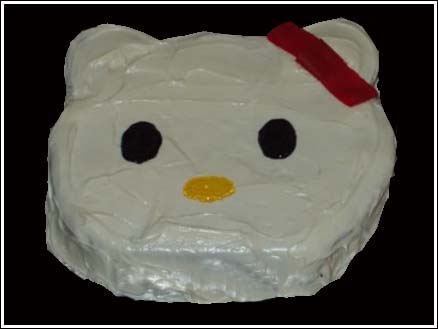 I used a similar pattern for Chococat, but made the ears different and used a thin, shiny, pourable frosting. Chococat stayed intact. I really liked the Chococat cake.
So I guess this next cake is going to look like the Purrr-Fect kitty. I think it should be strawberry, but kids never seem to eat strawberry cake. I'll keep thinking.