It seemed like a chocolate chip cookies kind of day, so I decided to try this (old!) recipe adapted from Cuisine at Home magazine. I've typed it up below as a half-batch. The cookies bake up crinkly, craggly, dense and soft. I'd say more but it's Monday and there are kids here and I'm writing in spurts. These are great, though. Worth trying if you've got the ingredients around.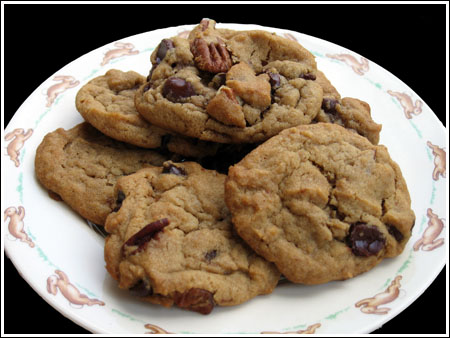 Chocolate Chip Cookies — Half Batch
1 1/2 cups plus 2 tablespoons all purpose flour
1/2 teaspoon baking soda
1/2 teaspoon salt
1/2 cup granulated sugar
1/2 cup dark brown sugar, packed
1/3 cup unsalted butter, softened
1/3 cup vegetable shortening
1 large egg
1 teaspoon vanilla
1 cup semi-sweet chocolate chips
1/3 cup bittersweet chocolate chips (or dark or milk)
1/3 cup chopped toasted walnuts or pecans
Preheat oven to 350 degrees F.
Stir together flour, baking soda and salt; Set aside.
Using high speed of an electric mixer, beat both sugars, butter and shortening until creamy. Reduce speed to low and mix in egg and vanilla – do not overbeat after adding the egg.
Add flour mixture to butter mixture and stir until flour is incorporated. Add chocolate chips and nuts (if using)
Drop cookies by rounded teaspoonfuls onto ungreased baking sheet. Bake for 12 minutes or until golden around edges and set. Transfer to a rack to cool.
Maks 20 (or so) cookies