After being away from the kitchen for so long, I figured I'd get back in the swing of things with a basic recipe from a reliable source. Enter King Arthur flour. Not only did they have the perfect oatmeal cookie for today, but a chance to enter a sweepstakes and win $500 worth of their products.
But back to the cookies. They are excellent — very flavorful with all the spices, sturdy and able to stand-up-to bake sale situations and soft in the middle.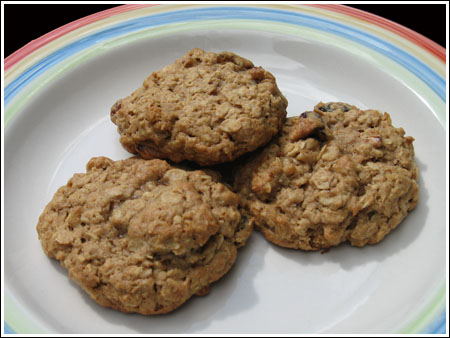 Don't be intimidated by what appears to be a long ingredient list, because some of the ingredients give substitutions. For instance, you can use reduced apple cider, maple syrup or dark corn syrup for the syrup component.
Cookie sizes can be altered as well. KA gives the bake time for dough measured out in teaspoons, tablespoon or quarter cups. Agreeing with KA's suggestion that the larger cookies would be good individually wrapped for bake sales, I opted for the largest size cookies.
Here's what I did:
1) Cut the recipe in half
2) Used Sun Maid assorted Jumbo raisins instead of cherries and goldens
3) Used Karo brown sugar flavored corn syrup instead of cider
4) Used toasted walnut pieces for the nuts
5) Used half whole wheat flour, half all purpose — spooned and swept the flour
6) Scooped out dough in quarter cupfuls and baked for 16 minutes. Dough did not require chilling.