Creepy Chocolate Layer Cake was inspired by two different recipes – Country Living's October cover cake and Rebecca Rather's famous Tuxedo cake. I used an old tried and true cake recipe for the chocolate cake component and a scaled down version of Rebecca Rather's whipped cream and chocolate glaze topping. As for the colors, I wasn't successful in creating a spooky, deep orange color, but no one minded. Next time, I'll do some research on how to do that.
Here's the recipe. If you don't have the time to make the whipped cream and topping, the chocolate layer cake component of this recipe is very good on its own. It doesn't even require an electric mixer.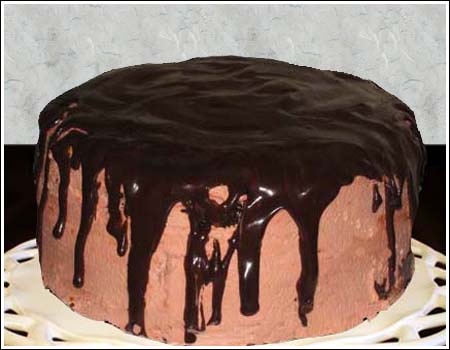 Creepy Chocolate Layer Cake
Cake Layer:
3/4 cup cocoa powder
3/4 cup scalding hot coffee
1 cup buttermilk
1 cup canola oil
4 large eggs
1 teaspoon vanilla
2 cups sugar
2 cups all-purpose flour (9 oz by weight)
1/2 teaspoon salt
2 teaspoons baking soda
Whipped Cream Icing:
2 cups chilled heavy whipping cream
1/2 cup powdered sugar
1 1/2 teaspoon vanilla
Chocolate Topping:
4 ounces bittersweet chocolate
1/2 cup heavy whipping cream
1/4 cup Lyle's Golden Syrup
2 teaspoons vanilla
Preheat oven to 350 degrees F. Spray two 9 inch round pans with flour-added cooking spray. If using dark pans, preheat oven to 325 degrees F.
Mix cocoa powder and hot coffee in a bowl or saucepan and stir until smooth.
In a mixing bowl, beat together buttermilk, oil, eggs and vanilla.
In another bowl, thoroughly mix together dry ingredients (sugar through flour).
Add dry ingredients to buttermilk/oil mixture and stir just until mixed. Stir in cocoa/water mixture. Mix just enough to get rid of lumps but do not over-beat.
Pour into prepared pans and bake at 350 degrees F for 30 minutes or until wooden pick inserted in center comes out clean. If you are using the lower temperature, you may need to bake for 37 minutes. Let cakes cool in pans for 10 minutes. Flip and let cool completely on racks.
Frosting: Whip the cream in a large bowl on high speed until soft peaks form. Add the powdered sugar and whip until thoroughly combined. Use orange paste or red and yellow food colors and dye the cream orange. Frost layers with whipped cream and stack. Chill the cake for an hour before adding chocolate topping.
Glaze: Place the chocolate in a medium bowl or a 2 cup glass measure. Heat the cream in a small saucepan over medium (or in microwave) until it is very hot and just beginning to steam. Pour the hot cream over the chocolate and stir until it has melted completely. Stir in the syrup and vanilla. Let cool for 10 minute. Do not let the glaze sit longer because it will stiffen and become difficult to pour over the cake. Slowly pour the glaze over the cake, ensuring that it covers the top and drizzles down the sides. Drizzele on top of cake.  If it doesn't drizzle properly, add a bit more Lyle's or warm briefly in microwave.
Refrigerate the cake until the glaze is set and the whipped cream frosting is firm, at least 1 hour.