Creepy Chocolate Layer Cake was inspired by two different recipes – Country Living's October cover cake and Rebecca Rather's  Tuxedo cake.   Normal Tuxedo Cake is a basic double chocolate cake frosted with whipped cream over which is drizzled a generous layer of chocolate glaze.  For a Creepy Chocolate Layer Cake aka Halloween Tuxedo Cake, you just tint the whipped cream orange.   Here's a photo of the latest cake I slapped together.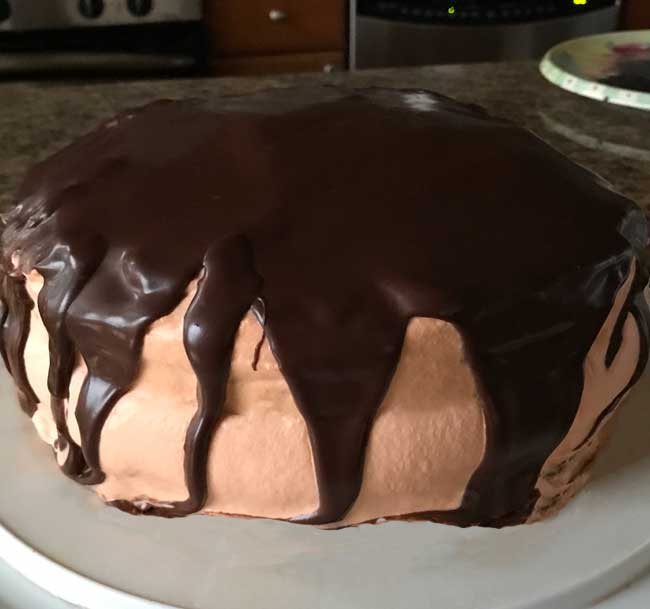 I should have put more thought into what platter I'd serve it on and what to put around the edges for garnish, but in this case it's just sitting on a cake carrier base and I attempted to clean up the drizzled ganache with a wet paper towel.  Next time I'm going to put it on a Halloween platter and stack candy corn around the perimeter.  But all that aside, the cake looks great sliced!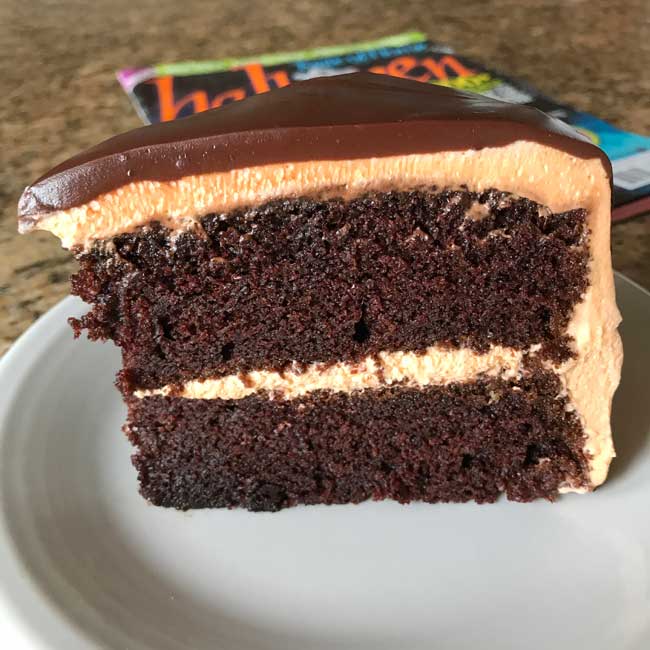 And I finally got the orange tint right.  For this latest cake I used Wilton gel food coloring because that is what Target had in the Halloween baking aisle and I didn't have time to go to Michael's to get orange paste, which would have given me a deeper orange.   At least this new one looks better than the one from last time (below).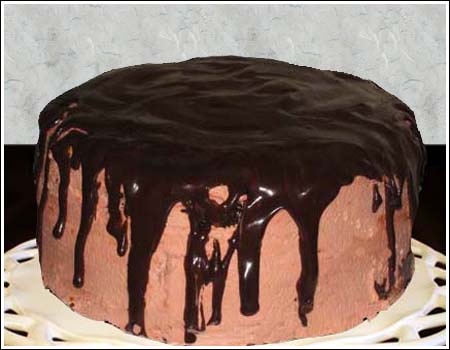 Here's the recipe. If you don't have the time to make the whipped cream and topping, the chocolate layer cake component of this recipe is very good on its own and doesn't require an electric mixer.  Or if you feel like it, you can use your own personal favorite layer cake recipe.  Hershey's Perfectly Chocolate Cake recipe would be good here, too.  2 cups of cream and 1/2 cup of powdered sugar should give you just the right amount of whipped cream to cover the cake (if not a little more) and the amount of chocolate glaze made with 4 oz of semisweet chocolate (I used Ghirardelli) should also be just enough.  As for the Lyle's, the last time I checked they sold it at World Market, but you can substitute regular or organic corn syrup.  For the latest cake I used Trader Joe's organic corn syrup, which has the same golden color as Lyle's but which is still just corn syrup.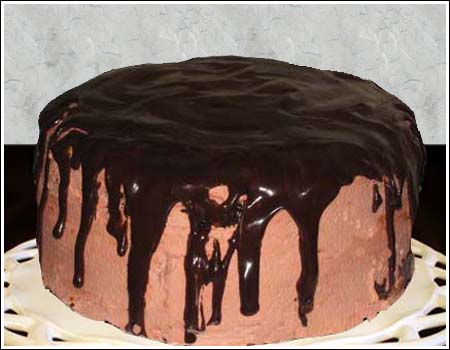 Creepy Chocolate Layer Cake
Creepy Chocolate Layer Cake is a chocolate layer cake frosted with orange whipped cream icing and a ganache glaze
Ingredients 
Cake Layers
3/4

cup

cocoa powder

3/4

cup

scalding hot coffee

1

cup

buttermilk

1

cup

canola oil

4

large eggs

1

teaspoon

vanilla

2

cups

sugar

2

cups

all-purpose flour

9 oz by weight

1/2

teaspoon

salt

2

teaspoons

baking soda
Whipped Cream Icing:
2

cups

chilled heavy whipping cream

1/2

cup

powdered sugar

1 1/2

teaspoon

vanilla
Chocolate Topping:
4

ounces

bittersweet chocolate

1/2

cup

heavy whipping cream

1/4

cup

Lyle's Golden Syrup

2

teaspoons

vanilla
Instructions 
Preheat oven to 350 degrees F. Grease and flour two 9 inch round cake pans.

Mix cocoa powder and hot coffee in a bowl or saucepan and stir until smooth.

In a mixing bowl, beat together buttermilk, oil, eggs and vanilla.

In another bowl, thoroughly mix together dry ingredients (sugar through flour).

Add dry ingredients to buttermilk/oil mixture and stir just until mixed. Stir in cocoa/water mixture. Mix just enough to get rid of lumps but do not over-beat.

Pour into prepared pans and bake at 350 degrees F for 30 minutes or until wooden pick inserted in center comes out clean. If you are using the lower temperature, you may need to bake for 37 minutes. Let cakes cool in pans for 10 minutes. Flip and let cool completely on racks.

Frosting: Whip the cream in a large bowl on high speed until soft peaks form. Add the powdered sugar and whip until thoroughly combined. Use orange paste or red and yellow food colors and dye the cream orange. Frost layers with whipped cream and stack. Chill the cake for an hour before adding chocolate topping.

Glaze: Place the chocolate in a medium bowl or a 2 cup glass measure. Heat the cream in a small saucepan over medium (or in microwave) until it is very hot and just beginning to steam. Pour the hot cream over the chocolate and stir until it has melted completely. Stir in the syrup and vanilla. Let cool for about 10 minutes, but not so long that it become too stiff to pour.

Slowly pour the glaze over the cake, ensuring that it covers the top and drizzles down the sides.

Refrigerate the cake until the glaze is set and the whipped cream frosting is firm, at least 1 hour.