No Name Pecan Pie is a pie which really needs a name. It's a mish mash of other pecan pie recipes with a few distinguishing factors such as the filling is boiled to 240 and the nuts are pan-toasted in brown butter. The corn syrup called for is light, but you could most certainly use dark if you prefer.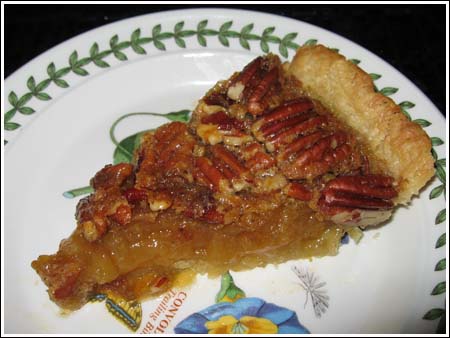 No Name Pecan Pie
Author:
Prep time:
Cook time:
Total time:
No Name Pecan Pie
Ingredients
8 tablespoons unsalted butter, divided use
1 cup light corn syrup
1 cup granulated sugar
1 cup pecan pieces
3 large eggs, lightly beaten
1/4 teaspoon salt
1 1/2 teaspoons vanilla
3/4 cup cup untoasted pecan halves
1 unbaked pie shell, 9 inch
Instructions
In a heavy saucepan, combine 2 tablespoons of the butter, corn syrup and sugar. Bring to a boil. Cook at a gentle boil, stirring often, until it reaches 240 degrees on a candy thermometer. Remove from heat and let mixture cool for 30 minutes – it should cool down into a gel-like consistency.
Meanwhile, in a large skillet, combine remaining 6 tablespoons butter and chopped pecans. Cook pecans and butter together over medium heat, stirring often, until butter begins to brown. Remove skillet from heat and allow pecans/butter mixture to cool.
Transfer cooled corn syrup mixture to a mixing bowl. Mix in eggs, salt, vanilla and pecan/butter mixture. Pour mixture into an unbaked pie shell. Arrange the untoasted pecan halves around perimeter of pie.
Bake in a preheated oven at 400 degrees F. for 12 minutes.
Reduce heat to 325 degrees F. and bake for an additional 35 minutes. After 35 minutes, the center should be shaky but the center should be quite wiggly.
Remove from oven and let cool on a rack. Pie will set as it cools.