These soft, cake-with-crispy-edged cookies are healthy tasting, but not in a "bad" way.   They are good for snacking or serving to children (Fuzz loved them), but I probably wouldn't take them to a cookie swap or serve them at a party unless requested.
Epicurious version here.
Adapted version is below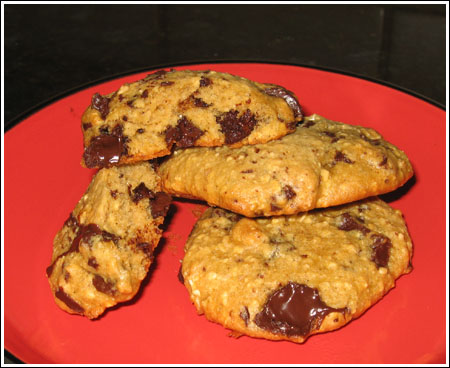 Chocolate Chip Cookies with White Beans
3/4 cups oats, old fashioned or quick – not instant
1 cup all purpose flour
3/8 teaspoon baking powder
3/8 teaspoon baking soda
3/8 teaspoon salt (use a bit less if desired)
6 tablespoons drained white beans, mashed or pureed with 1 T. liquid
2 tablespoons vegetable oil
1/3 cup firmly packed light brown sugar
2 1/2 tablespoons granulated sugar
1 tablespoon molasses
1 large egg
1 teaspoon vanilla extract
4 ounces dark chocolate, cut into chunks
Preheat oven to 350°F. Line two baking sheets with parchment paper or spray lightly with cooking spray.
In blender, process oats until finely ground. Combine ground oats, flour, baking powder, baking soda, and salt in a bowl.
Combine mashed beans, oil, both sugars, molasses, egg, and vanilla in a separate bowl and beat well. Stir in oat/flour mixture. Stir in chocolate chunks.
Drop batter by tablespoonfuls onto baking sheets. Bake 12 minutes until centers are firm and edges are lightly browned. Transfer to wire rack to cool.
Makes 1 1/2 dozen.
S(Internet Address):