Best Ever Chocolate Chip Cookies are straightforward, basic, no fancy flours, no corn syrup, etc. thin, crisp, chocolate chip cookies. They aren't flashy, but they have just the texture I was hoping for today and a buttery, rich flavor.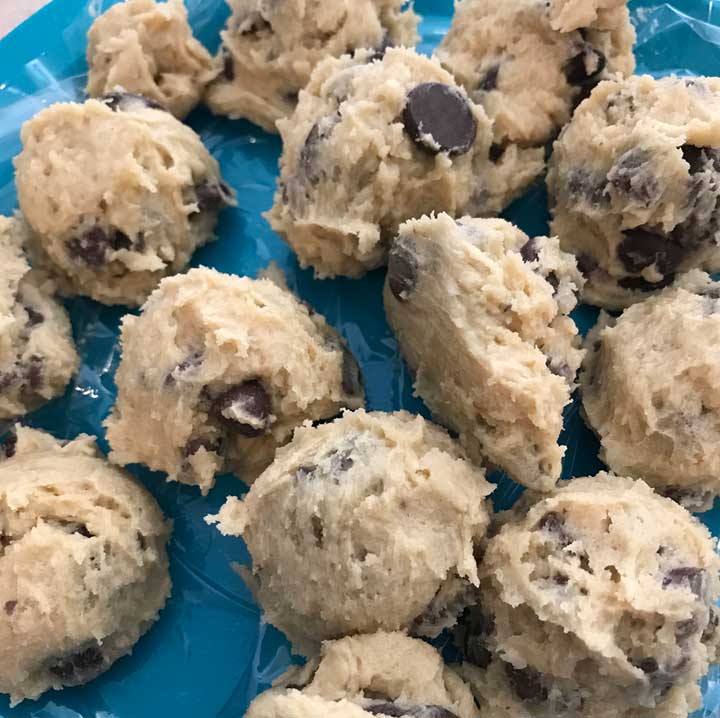 This recipe happens to be the very first one in The Wellesley Cookie Exchange
– a good cookbook for any cookie lover's collection. The proportions are similar to the original Toll House cookies, but these are thinner and definitely crispier. The Wellesley ladies use Macadamia nuts in their version which probably takes the cookies over the top, but even without the nuts, the cookies are fabulous. That is, if you like thin and crispy homey looking cookies.
Best-Ever Chocolate Chip Cookies are classics, and I didn't want to change the original recipe even though the cookies spread unevenly.  The original recipe just calls for 2 cups of flour, which can weigh anywhere from 250 to 280 grams.  The author of the recipe must have been using 280 grams (heavier cups) of flour.  This is an example of why using scales to measure is so much more accurate.  In addition, I think a teaspoon of baking soda might be overkill and have experimented with reducing the baking soda to 3/4 teaspoon.  Reducing the baking soda curbs the browning a bit, but I kind of like the browner cookies so I'm keeping it at 1 teaspoon.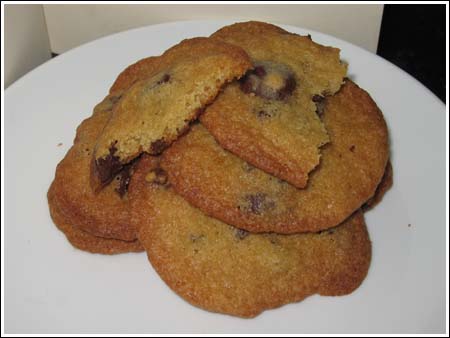 Best Ever Chocolate Chip Cookies
2 cups all-purpose flour (250 to 280 grams)
1 teaspoon baking soda
1 teaspoon salt
2 sticks (8 oz) unsalted butter (230 grams)
3/4 cup granulated sugar (150 grams)
1 cup brown sugar, packed (200 grams)
1 teaspoon vanilla
2 large eggs
12 ounces semi-sweet or bittersweet chocolate chips
1/2 cup chopped nuts (such as Macadamia)
Preheat oven to 375 degrees F.
Mix together flour, soda and salt. Set aside.
With an electric mixer, beat butter and both sugars for about 2 minutes or until very creamy. Add vanilla and eggs and beat just until egg is blended in. By hand, stir flour mixture into butter mixture. Stir in chocolate chips.
Drop by teaspoonfuls onto a parchment or Silpat lined cookie sheet. If you don't have parchment or a Silpat, just use an ungreased sheet. Bake for 10 minutes. Let cool on sheet for 2 minutes, then transfer to a wire rack to cool and crisp.
Makes 40