I'm posting this old hacked together recipe by request. I made these in January 2006 then took the recipe down during a period where I felt experimental recipes or recipes I'd only made once shouldn't be up. But since it's the holidays and people are looking for new ideas, here's the recipe again. Maybe you can make it better?
For this cookie, I took a chocolate truffle cookie recipe (probably the old Thomas Haas sparkle cookie), modified it a bit, then stuffed the chocolate dough into snickerdoodle dough. The end result looked something like this.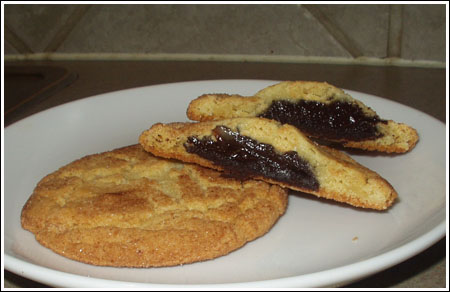 If you make these, let me know so I'll feel better about having the recipe up here.
Chocolate Stuffed Snickerdoodles
Chocolate Filling:
1 ounce unsweetened chocolate
3/4 cups semi-sweet chocolate chips
2 tablespoons butter
1 egg
1/4 cup sugar
1 tablespoon honey
1/4 teaspoon vanilla
2 tablespoons flour
1 tablespoon unsweetened cocoa powder
Pinch salt
Snickerdoodle Dough:
2 2/3 cups flour
2 teaspoons cream of tartar
1 teaspoon baking soda
1/2 teaspoon salt
1/2 cup butter, softened
1/2 cup butter flavored shortening or shortening (important — don't use all butter)
1 3/4 cups granulated sugar
2 eggs
2 ½ teaspoons Mexican vanilla or vanilla
Cinnamon Sugar: 3 tablespoons granulated sugar plus 1 ½ teaspoons cinnamon
Chocolate Filling:
Prepare chocolate filling first. It needs at least an hour to chill.
Place chocolate, chocolate chips, and butter in a microwave-safe bowl. Microwave on high to melt, stopping every 30 seconds to stir.
In a separate bowl, using high speed of electric mixer, beat egg, sugar, honey and vanilla for 2 minutes.
Spoon about 2 tablespoons of melted chocolate into egg mixture, then stir egg mixture into bowl with melted chocolate. Stir in flour, cocoa powder and salt.
Place in refrigerator to chill for at least one hour. Mixture will become very thick.
Using a rounded measuring teaspoon, scoop up dough to make about 16 balls.
Prepare snickerdoodle dough.
Stir together flour, cream of tartar, baking soda and salt.
In a mixing bowl, cream softened butter, shortening and sugar. Beat in eggs and vanilla. By hand, stir in flour mixture. Chill dough for about 10 minutes.
Preheat oven to 375 degrees F. Line a cookie sheet with parchment.
Using a rounded tablespoon, scoop dough into balls of approximately 1 inch (maybe a little bigger). Break the ball in half, press the two halves flat, then place a chocolate ball between the two halves and bring edges together to seal it in so it's hidden. Roll the cookie in cinnamon sugar and press down very slightly.
Place on cookie sheets and bake at 375 degrees for 9-11 minutes.