Before adding the chocolate, nuts and cranberries to yesterday's jumble dough, I put away half of the dough to save for an experiment. The experiment, which I tested this morning and which tasted good, was adding Roxanne Chan's combination of pistachios, peppermints and white chocolate chips. The result was a crunchy colorful cookie that tasted surprisingly like non-chocolate Girl Scout Thin Mints.
The candy canes were green, red and white. They melt into the cookie, then they cool off and add more crunch. I'm not sure which brand candy cane I used, but I do recommend using the multi colored ones because of the way they melt.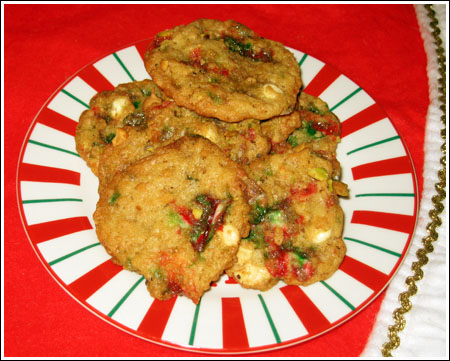 White Chocolate, Peppermint, Pistachio Jumbles
1 1/4 cups flour
1/2 teaspoon baking soda
1/4 teaspoon salt
4 ounces unsalted butter, room temp
3/4 cup sugar
1/4 cup brown sugar
1 egg
1 teaspoon vanilla
2 cups crispy rice cereal (Rice Krispies) 2 cups white chips ( use more or less if you feel like it)
2/3 cup roasted pistachio kernels, chopped (mine were lightly salted)
5 or 6 red, green & white candy canes, unwrapped and crushed
Preheat oven to 350 degrees. Thoroughly stir together the flour, baking soda and salt; set aside.
Cream butter and sugar for 3 minutes. Add egg and vanilla and beat for about 30 seconds. Stir in the flour mixture; stir in the cereal, white chips, pistachios and crushed candy canes.
Drop by well-rounded teaspoonfuls on a lightly greased baking sheet; bake until golden, about 11-12 minutes. Transfer to a wire rack to cool. Cookies will crisp as they cool.
About 4 dozen