I was a little worried we'd be up to our ears in Girl Scout Cookies and that I'd have to make loads and loads of Ice Box Cakes, Thin Mint Crusted Pies, and Girl Scout Cookie Trifles.
Not the case.
Fuzz and her pal AK stood in front of Sam's Wholesale Club Saturday night and sold 70 boxes. That's only 35 boxes each, but it helped Fuzz's overall sales and between that and sales to friends and family, she's almost exceeded her goal. Next year we'll aim higher, but this was all new to us. Now we are waiting to see how the rest of the girls in the troop do. There are Brownies on every street corner and the girls are doing their best in a saturated market. Luckily, the cookies are super-good this year and people keep wanting more.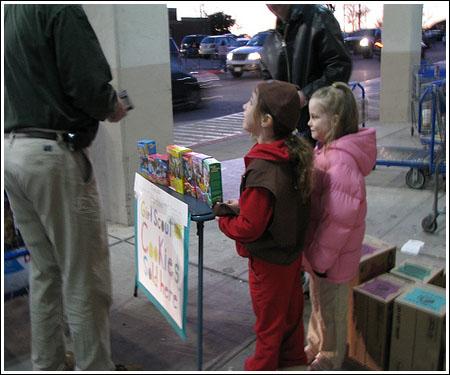 But I'm back to making cookies here at home. Today's been busy, so I've skipped a day, but I do have a recipe in the line-up and it's a prize winner.
These cookies were created by Janice Elder, who entered them into a contest sponsored by Freixe champagne. The champagne company liked them so much they gave Janice a trip to Sonoma. Since the recipe is brand new, I'm linking directly to it. If weeks go by and this link doesn't work, let me know and I'll post the recipe right here.
I was going to make these today, but my herb garden froze over and I have a hard time forking over $5.00 for fresh herbs when just a few weeks ago, I had a whole garden full of sage and basil. If anyone makes these and wants to share a picture, let me know.