When I'm in a good mood, I make chili.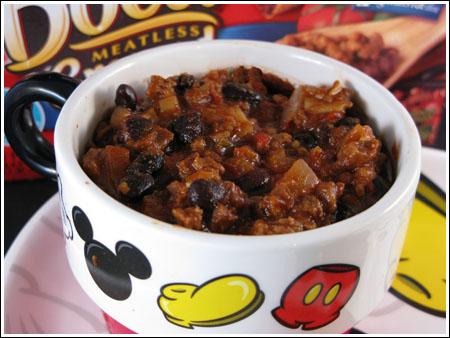 Quick Vegetarian Chili
1 Tbsp. olive oil
1 large onion chopped
4 cloves garlic, minced
1 tablespoon ground cumin
12 oz package of Boca ground beef crumbles, frozen
2 (14.5 oz.) can diced tomato with celery, green pepper & onion (Hunts) – undrained
2 Tbsp. chili powder
1 cup tomato puree
1 1/2 cups vegetable broth
2 teaspoons honey
1 teaspoon **smoked** paprika
1 (15 oz.) can black beans, drained
Optional Ingredients if Desired (see note)
In a large pot, heat oil over medium. Add onion and sauté for 3-4 minutes or until soft. Add garlic and cumin and heat for another 2 minutes. Add boca crumbles and stir well – infusing the boca crumbles with the cumin and other flavors. Now pour in both cans of tomatoes, chili powder, tomato puree, vegetable broth. Stir well, then add honey and smoked paprika. Simmer for 2 or 3 minutes, then add drained black beans.
Makes about 8 cups.
Related posts: