This afternoon I tested out a recipe mentioned in the comment section two posts back. A few people have said these are similar to the cookies at Levain bakery, but I can't say since I haven't been there. These are definitely fat and have a soft insides, but they don't look particularly like Levain's. I played around with the oven temps to get more rise out of the cookies. I baked them at 375 for the first 8 minutes to kind of set the shell, then I reduced the heat to 325 for the remaining bake time. Total time for me was about 18 minutes.
I will definitely make these again — perhaps with the Valrhona and European Butter. Still, I won't be able to compare them to Levains until I go to NYC.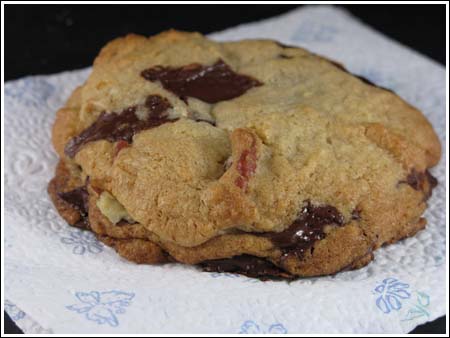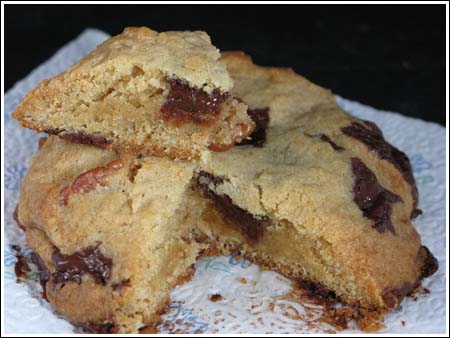 Big Fat Copy Cat Cookies
8 ounces (2 sticks) unsalted butter, cold – cut into chunks
¾ cup granulated sugar
¾ cup packed brown sugar
2 large eggs
1 teaspoon vanilla
3 cups all purpose flour (13 ½ oz)
¾ teaspoon salt
1 teaspoon baking powder
½ teaspoon baking soda
12 ounces (2 cups) good quality semisweet chocolate chips or chopped chocolate
1 cup nuts (pecans or walnuts)
If using dough right away, preheat oven to 375 degrees F.
In a mixing bowl, using an electric mixer, beat butter and both sugars just until creamy. Don't overbeat. Add the egg and vanilla and beat just until incorporated.
Stir together flour, baking soda, baking powder and salt. When thoroughly mixed, add to batter and stir just until blended. Stir in chips and nuts.  Dough should be neither too sticky, nor too dry.
Divide dough into 12 big 4 oz lumps. Bake on ungreased cookies sheets (one sheet at a time).
Bake times:
Put the cookies in a 375 degree oven and set timer for 8 minutes. When timer rings, without opening oven or removing cookies, reduce heat to 325 degrees and bake for another 8-10 minutes or until cookies appear set.
Otherwise, you can bake at 350 for 18-22 minutes or until done