I spent this morning doing some volunteer work at the school, where the kindergartners were all riled up because their chicks hatched. They got the eggs from 4-H this year and there were more live-hatches than last year. Good job, 4-H! Congratulations on raising such fertile chickens.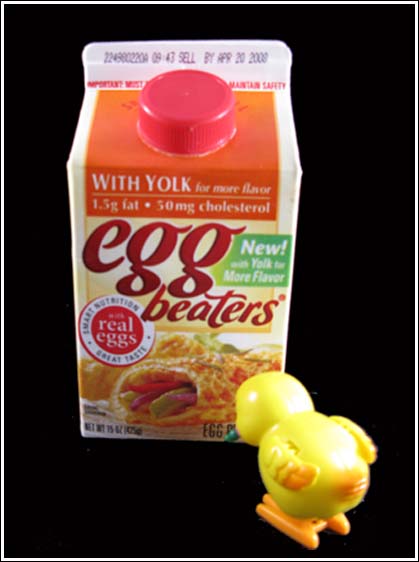 Oddly enough, I came home for lunch and felt like making myself some scrambled eggs. I usually just scramble the whites and mix in a bit of extra yolk for flavor, but today I decided to try a product I picked up yesterday called "Egg Beaters with a Touch of Yolk".
Now the people at Egg Beaters (who did not ask for this review or read Cookie Madness as far as I know) claimed the touch of yolk made their product better. I was all for making Egg Beaters taste better and since I do the "touch of yolk" trick myself, I figured they might be onto something. And I am happy to report that the new Egg Beaters are MUCH better. They do have 10 more calories per 1/4 cup, but big deal, right? Because now they taste more like natural scrambled eggs, which I also love but which have double the calories. The other nice thing about Egg Beaters is they're fast, compared to cracking 4 eggs, separating out the yolk and adding a little of it to the whites. And fast is good for days when you have lots going on.