Let me preface this with the fact that someone asked for cookies for a staff birthday tomorrow, so that's why I baked two recipes today. If there's time, I might make another one, but I have an appointment at the playground later and might have to wait until tomorrow AM.
This cookie recipe is from the Neiman Marcus cookbook. It is not the same as this one and Neiman Marcus and I don't want to perpetuate that myth. It's tiresome. So here's the recipe as written by Katy G. who has excellent taste in cookies (among other things, I am sure). I followed the directions, but left out the espresso, used dark brown sugar instead of light and some cut up Dove bars in place of chips. The Dove bars were a little melty-melty, but people like that sort of thing so I have a positive feeling about these mocha cookies.
The recipe below makes a full batch. A smaller batch version is on the Neiman Marcus site. There's a toaster on sale too!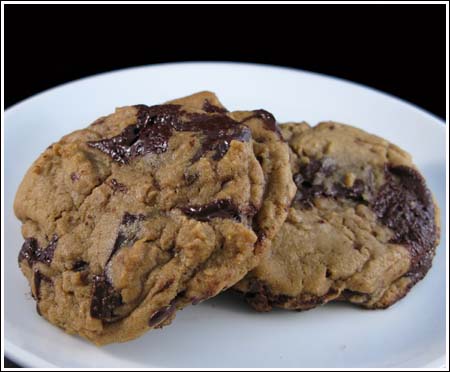 Neiman Marcus Mocha Cookies (from NM Cookbook via Katy)
1 cup (2 sticks) unsalted butter, cool room temp
2 cups (450g) golden brown sugar
1/3 cup (65g) superfine sugar
3 teaspoons instant espresso powder (optional)
2 large eggs
4 teaspoons pure vanilla extract
3 1/2 cups (490g) all-purpose flour
1 teaspoon baking soda
1 teaspoon baking powder
1 teaspoon sea salt
3 cups chocolate chips
1: Preheat oven to 300 degrees F.
2: Line baking sheets with parchment.
3: Cream butter and sugars.
4: Beat in espresso powder and vanilla.
5: Add eggs and beat until thoroughly smooth.
6: Add dry ingredients and stir to combine.
7: Scoop into very large walnut sized balls. Flatten slightly.
8: Bake for about 20 minutes, until set and very slightly golden around edges.
Note: For superfine sugar, buzz it in the food processor.
Related posts: