…it's a Levain cookie photo.
After all the fuss over Levain cookies, a reader named Katrina promised that when she went to New York, she'd go to the Levain bakery, take a photo of the cookie and give a review. Well, here's the photo.  And by the way, holy cow.  Katrina's review is after the photo.
UPDATE:  Recipe for a similar cookie can be found her — Cookie Madness Levain Cookie Copy Cat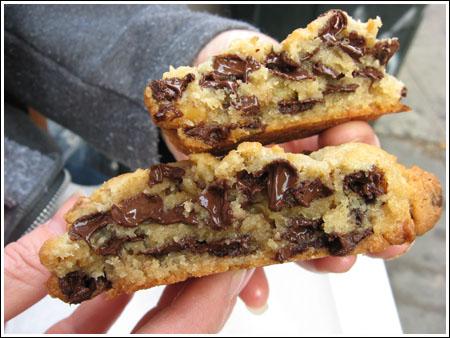 Katrina's Review:
I really thought I wasn't going to like the Levain cookie and thought it was going to be cakey or just too high and fat, but I must tell you–I LOVED IT! Fresh and warm it was delicious. I did not miss the vanilla either. It was also quite good the next day and even after bringing one home and eating some yesterday it was still pretty good, although definitely not AS good as fresh. I'm putting the Levain at the top of my chocolate chip cookie list. It was yum-o. (Now I want to try the copy cat recipes.) Measured from top to bottom its highest point was about an inch and a half. I also tried the other three kinds. Did not care for the oatmeal raisin cookie. It was as if they make a dough (not even really the same type dough as chocolate chip) and just throw in a small amount of oatmeal. There just was not enough oatmeal and this one really missed flavor–like vanilla and maybe some cinnamon. I also LOVED the chocolate peanut butter chip cookie. And although it was good, thought the triple chocolate cookie was too darn rich.