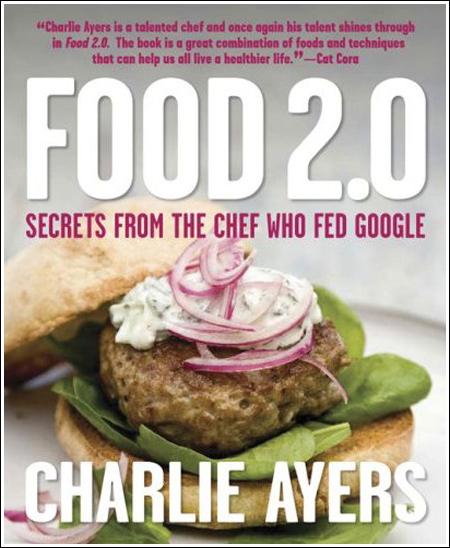 Charlie Ayers was employee number 53 at Google. He was hired to fulfill the dietary wishes of employees and in the spirit of efficiency, make it so they wouldn't have to leave campus for lunch. Charlie, a trained chef whose past experience included catering for The Grateful Dead, was in tune with management's belief that employees who were eating good, nutritious food would be happy and more productive. So Charlie's challenge was to make and serve truly nourishing food that people would actually eat….which as we all know is not as easy as it sounds.
In Food 2.0, Charlie makes his style of cooking sound fun. As someone who loves exploring ethnic foods and has a keen interest in nutrition and dedication to eating locally, he was perfect for the job at Google, and the book is a series of stories of how things were when he started and what changes occurred due to his influence and certain employees' influences on him. He was loved by many, and when you read the book you'll understand why. He has a friendly way of imparting very practical, if not enlightening, advice.
Along with the stories, Charlie gives personal opinions and plenty of tips. He discusses vinegars and why he likes using them, types of oil and their uses, and mentions a few more ingredients which aren't very common now, but will be in a few years. Japanese mayonnaise, anyone?
As for recipes, in the first half of the book, there are quickies. There are at least eight "raw juice snacks" (Charlie's very interested in raw foods), three quick throw-together vinaigrettes, some of Charlie's special flavored condiment formulas and a few unique recipes for various "flavor cubes" you can add to soups or stews. These mini recipes are scattered through the first part of the book where Charlie's mostly "talking".
Second half of the book is where most of the recipes are. He eases us into things with smoothies – some simple and some with more unusual ingredients such as rice milk and royal jelly. And that sets the stage for the rest of the book which features recipes for courses– different, yet familiar. Breakfast includes fluffy pancakes made with soy powder, granola with sesame and a breakfast polenta. For "lighter" fare, there is a crumbled blue cheese salad with beets, dragon breath noodles (something kids would probably like) and Khyer spring rolls (recipe here). Heartier recipes include a Japanese beef dish made with red miso paste and chicken Wellingtons made with Quorn. There's something for everyone in the book, but nothing is boring or typical.
As for baked goods, there aren't a ton, but I am happy to say that every single baked item in this book is something I personally would make. There's cranberry-orange bread, sweet potato biscuits, mint chocolate brownies and one recipe called Coconut Oatmeal Squares with Chocolate Chips which I just found published here. I'm off to make it right now!