The second Track and Field Day recipe is from Katrina, who has been experimenting with Rice Krispy Treats. She started with two layers then graduated to three to make "Triple Decker Rice Krispy Treats" of peanut butter, plain and chocolate.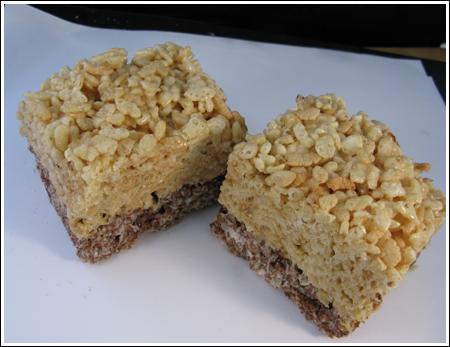 I used Katrina's recipe, but changed the proportions slightly. The bars turned out great. My only issue is the peanut butter layer isn't very dark. Katrina added peanut butter chips to hers, so I think that's why her peanut butter layer is darker.
This was a fun recipe and I'm looking forward to trying it with different flavors of Rice Krispy Treats. I see a Neapolitan treat on the horizon! In fact, I wanted to do that type today but couldn't find those strawberry marshmallows everyone was talking about a few weeks ago.
And finally, I'd planned to make these in a big pot over the stove, but at the last minute I decided using the microwave would be more efficient. Along with being faster, it 's a little easier to clean a bowl between layers than a big pot.
Triple Decker Rice Krispy Treats
Layer 1:
4 tablespoons butter
4 cups mini marshmallows (10 oz)
6 cups Coco Krispies cereal
1 cup semi-sweet chocolate chips
Layer 2:
3 tablespoons butter
4 cups mini marshmallows (10 oz)
1/2 cup peanut butter (estimate)
6 cups Rice Krispies Cereal
1 cup peanut butter chips (optional)
Layer 3:
2 tablespoons butter
2 cups mini marshmallows
3 cups Rice Krispies
Line a 13×9 inch pan with parchment paper.
Melt butter in a microwave-safe mixing bowl (45 seconds on high). Add marshmallows and toss to coat with butter. Microwave marshmallows for 30 seconds and stir well. Repeat, stirring every 30 seconds, until marshmallows are melted. Stir in cereal and chocolate chips, then empty mixture into the lined pan. Lay another sheet of parchment over the top and press down as flat as you can. Set the parchment aside.
Rinse out bowl (no soap needed!) and repeat melting procedure with Layer 2 – adding peanut butter and Rice Krispies to melted marshmallows. Empty this layer onto the chocolate layer and use the sheet of parchment paper to press down. At this point, you'll be almost to the top of the pan if not at the top.
Repeat melting procedure with Layer 3, which uses a smaller amount of butter, marshmallows and cereal. Empty onto to and press as flat as possible. Let stand at room temperature for an hour.
Lift from pan and set on a big cutting board. Using a Chef's knife, cut into big squares.
Makes 1 13×9 inch pan