Update:  This is an old post from back in the days when I acted goofy.  It's embarrassing and I'm sorry.  Anyhow, since posting this I've not made anymore cookies with instant yeast.  Bread, yes.  Cookies, no.  The closest I've come to the Levain cookie is  this one.
Allow me to introduce myself.
I am the phantom of Cookie Madness and I'm here because my sweet angel of cookies (Anna) promised never to speak of
LEVAIN COPY CAT COOKIES
again.
Before I take her away (by boat) to my lair in a foggy swamp, I will share with you one more secret copy cat recipe sent to me by another sweet angel of cookies, Rita (from Portugal!). Rita created a new version of the cookie with instant yeast. Try it. That's all I ask of you.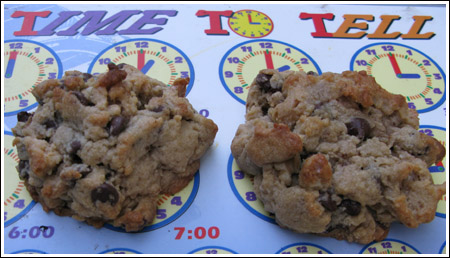 Giant Chocolate Chip Cookies with Instant Yeast
4 ounces unsalted butter, room temp or slightly cold
6 tablespoons granulated sugar
6 tablespoons dark brown sugar, but light okay too (used dark)
1 large egg
1/4 plus 1/8 teaspoon salt
1 1/2 cups BREAD flour (6 1/2 oz) – weigh if possible. If no scale, scoop and sweep
1/4 teaspoon Instant Yeast (sometimes called fast-acting)
2/3 cup semi-sweet chocolate chips
1/3 to 1/2 cup barely chopped, untoasted walnuts
Preheat oven to 375 degrees F.
Beat butter and both sugars just until they come together. Don't over-beat. Add the egg and salt; beat just until mixed.
Mix together the flour and instant yeast. When thoroughly mixed, add to batter and stir just until blended. Stir in chocolate chips and nuts. The dough should be neither sticky nor dry.
Divide dough into four large mounds, but keep the mounds kind of raggedy. That is, don't smash them into compact balls or try to smooth them.
Bake for 10 minutes on an ungreased insulated cookie sheet or a cookie sheet stacked on top of another cookie sheet. After 10 minutes, without opening the oven, reduce heat to 350 and bake for another 8-10 minutes or until cookies appear set and nicely browned all over. Total bake-time 18-20 minutes.
Cool on sheet for about 10 minutes then transfer to a wire rack to cool.
Makes 4 phantomtasticly big cookies