I thought I'd take a picture of one of our last minute cupcakes and let you know I used White Wedding Cupcakes recipe from Recipezaar (adapted version below). It was okay – definitely still tasted like cake mix, but was very good.  The kids loved it. I'm not sure what the point was in adding all the extra ingredients to cake mix unless it was extra moistness, but now I can mark the recipe off my list of things to try.
Update: This is a popular cupcake. One thing to note, though, is that cake mix boxes now contain a smaller amount (about 16 ounces) of mix, and to date, I have not tested this recipe with only 16 ounces of mix. I'm thinking the best bet might be to use one 16 ounce box and weigh out enough of a second box to make 18.25 ounces. I'll update this recipe as soon as I try it. It kind of makes me wonder what's going to happen with all the Cake Mix Doctor recipes which start with 18.25 ounces of cake mix.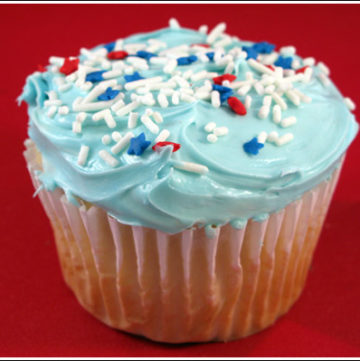 White Sour Cream Wedding Cake Cupcakes
Easy recipe for cupcakes that uses cake mix, flour, sugar and other ingredients to extend the mix. Makes box cupcake taste like scratch!
Ingredients 
18.25

ounces

of white cake mix

1

cup

4.5 ounces all-purpose flour

1

cup

granulated sugar

3/4

teaspoons

salt

1 1/3

cups

water

2

tablespoons

vegetable oil

1

teaspoon

vanilla extract

1/2

teaspoon

almond extract

1

cup

sour cream

room temperature

4

large egg whites
Instructions 
Preheat oven to 325 degrees F. Line muffin tin with 30 paper liners.

In a mixing bowl, combine all the dry ingredients and stir well. Add the remaining ingredient and stir to mix, then beat with a mixer for about 2 minutes or until smooth and creamy. Fill the cupcake liners a little more than half full. Drop the pans lightly on the counter to bring air bubbles to the top.

Bake on center rack or center rack and lower rack (changing racks halfway through if using two racks) for 22-25 minutes or until cupcakes spring back when lightly touched and are slightly brown around the edges.
Notes
Yield will vary depending on what size cupcake liners you use.
— ENJOY THE WEEKEND. Read more about Memorial Day.