A few years ago I bought a bag of rice flour by mistake. I'd meant to buy "sticky" rice flour, but didn't know there was a difference between the two flours and ended up with 1) an incorrectly prepared Japanese dessert and 2) a bag of rice flour that stayed in the refrigerator for a year until I finally threw it out.
Naturally, after throwing out the rice flour, every recipe I came across was an interesting dairy free peanut butter cookie made with rice flour, and if I wanted to make it, I had to go out and buy another $3.00 bag of rice flour. $3.00 isn't a lot of money, but the fact that I'd just thrown out a bag made me less eager to run out and buy another one. This is the cookie that convinced me to do it. It's based on a state fair winning recipe which won second place in the category "Wheat and Dairy Free Desserts".
These were really good. They were thicker and more (hmmmm) rustic than I'd imagined, but the rice flour gives the cookie an interesting crumbly texture. The original recipe said to add extra peanuts and white chocolate chips to the dough, but I didn't think those things were necessary. In fact, these would be great without the chocolate chunks. Just be prepared for some tall cookies.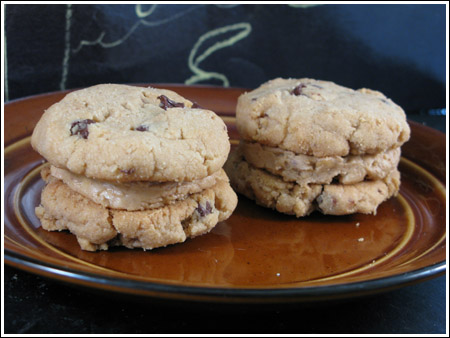 Wheat & Dairy Free Peanut Butter Chocolate Chunk Sandwich Cookies
1/2 cup shortening
1 cup peanut butter
1/3 cup granulated sugar
1/3 cup brown sugar
1 teaspoon vanilla
1 large egg
2 tablespoons soy milk, hemp milk or regular milk (if not worried about dairy)
1 teaspoon baking soda
1/2 teaspoon salt
1 1/2 cups rice flour
1 cup chopped dark or semi-sweet chocolate or dairy free chocolate chips, chopped
Filling:
1 cup peanut butter
2/3 cup powdered sugar
½ to 1 teaspoon vegetable oil (optional)
Preheat oven to 350 degrees F. Line two cookie sheets with parchment paper.
Cream shortening, peanut butter, granulated sugar, brown sugar and vanilla with an electric mixer. Beat in egg and whatever type milk you're using. Scrape sides of bowl and stir in baking soda and salt. Mix thoroughly, then add rice flour and stir until well mixed. The dough should be very thick. Mix in the chocolate.
Using a tablespoon measure as a guide, scoop up balls of dough and shape into small mounds. Press the mounds into neat circles, about 1 ¾ inches in diameter. These cookies don't spread very much. You should have 34 rounds.
Bake the cookies 11-14 minutes or until set. Let cool on cookie sheet for about 5 minutes, then carefully transfer to wire rack to finish cooling.
Prepare filling. Mix together peanut butter and powdered sugar. If the mixture seems to stiff for your liking, add vegetable oil.
Spread mixture onto smooth sides of 17 cookies. Press smooth sides of remaining cookies onto filling to make sandwiches.
Makes 17 cookies.