The Memorial Day party was fun. Everyone enjoyed being together and spending time with our good friend who is being deployed next week. A few of you might remember her as the mom from my playgroup who helped us mail our cookies to troops a while back. Now we can mail cookies to her. I'll get mailing info for the holidays.
She didn't want any fanfare because this is all in the line of duty, but the least I could do was make sure she had an awesome cake. This is what we ended up with. It's a chocolate stout cake (adapted from Epicurious) with a frosting from Dorie Greenspan. As predicted, the stout went well with the malt. Thematically, decorating was easy. I just piled malt balls on top and stuck them around the edge — simple but strangely dramatic. The picture's not very good because I had to take it quickly without looking like someone crazy cake voyeur.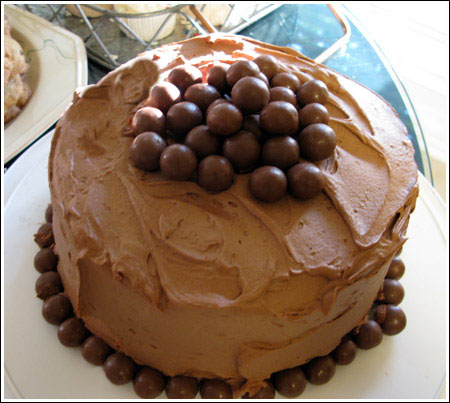 Chocolate Stout Cake
2 sticks butter (8 oz)
1 cup Guinness Stout
3/4 cup Dutch process unsweetened cocoa powder or Hershey's Dark
2 cups all purpose flour
2 cups granulated sugar
1 1/2 teaspoons baking soda
3/4 teaspoons salt
2 large eggs
2/3 cup sour cream
Preheat oven to 350 degrees F. Spray two 8-inch round cake pans with flour-added cooking spray.
Melt butter in a small saucepan set over medium heat. When butter is almost completely melted, add stout and cook over medium until mixture starts to simmer. Reduce heat slightly, add cocoa powder and whisk until smooth. Remove from heat.
Whisk flour, sugar, baking soda and salt together in a bowl. In a second bowl, using an electric mixer, beat eggs until thick and lemon colored – beat for a full five minutes. Add the sour cream and beat until combined. Add the stout mixture to the egg mixture and stir just until mixed. Add the flour mixture and stir until well mixed.
Divide the batter equally among the two pans. Bake for 28-32 minutes or until cakes test done (toothpick inserted comes out clean). Cool in pans for 10 minutes, then flip and let cool on a cooling rack. Ice when cool or freeze layers and save until needed.
Malted Chocolate Frosting (adapted from a Dorie Greenspan recipe)
6 ounces bittersweet chocolate, coarsely chopped
1/3 cup (packed) light brown sugar
1/4 cup malted milk powder (such as Carnation, Ovaltine or Horlick's)
1 tablespoon unsweetened natural cocoa powder
1/4 cup boiling water
2 sticks (8 ounces) unsalted, butter, at room temperature
Pinch of salt
3/4 teaspoon pure vanilla extract
2 1/4 cups confectioners' sugar
Melt chocolate and half of the brown sugar together in a heat-proof bowl set over a pan of barely simmering water or in top of a double boiler. Let cool slightly.
Stir remaining brown sugar, malted milk powder, cocoa powder and boiling water together in a small bowl or glass measuring cup.
Beat butter in bowl of a standing mixer. When creamy, beat in melted chocolate, followed by malted milk powder mixture. Beat in vanilla. Stir in the powdered sugar; beat until it is well mixed.
Chill mixture for 30 minute to hour or until it is good and cold. Return bowl to stand mixer and beat chilled icing until it becomes light and fluffy.
Related posts: