Update: Before you make these, please read this updated version of the Levain Copycat recipe which uses bread flour, European style butter and walnuts. The bread flour gives you a firmer cookie, while versions like the one below made with the all-purpose and cake flour (or a soft wheat flour like White Lily) give you a softer cookie.  I like both types. This one is a little sweeter and spreads more than the version made with bread flour (which also happens to have baking powder).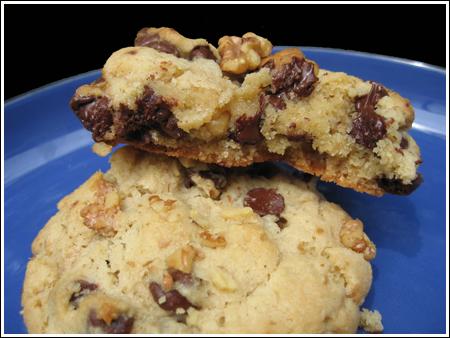 In addition to the small batch version, I've added a "regular size" batch. I've been making these for years with very good results.
Levain Clone
SUPER Small Batch Levain Copy Cats
4 tablespoons unsalted European style butter, cubed, cold but not too hard (58 grams)
2 tablespoons granulated sugar (25 grams)
3 tablespoons packed brown sugar (38 grams)
2 tablespoons lightly beaten egg (25 grams)
1/4 teaspoon vanilla
1/4 cup cake flour (28 grams) — or 28 grams White Lily
1/4 cup plus 3 tablespoons all-purpose flour (55 grams) — or 55 grams White Lily
1/4 teaspoon salt (scant)
1/4 scant teaspoon baking soda (just a little under 1/4)
small handful chocolate chips (semi-sweet)
Small handful whole toasted walnuts
In a mixing bowl, using an electric mixer, beat butter and both sugars just until they come together. Don't overbeat. Add the egg and vanilla and beat just until mixed. Don't keep beating until smooth – you want it to be roughly creamed.
Stir together flour, salt, and baking soda. When thoroughly mixed, add to creamed mixture and stir. The dough should seem kind of dry at this point.
Before the flour is fully mixed in, add the walnuts and chocolate chips and continue mixing (may need to use hands) allowing some of the walnuts to break.
Divide dough into 2 big balls. Stack them in the bowl and chill the dough for an hour or so.
When ready to bake, bake on a parchment lined cookie sheet in a 350 degree oven for 21 minutes. Let sit on cookie sheet for about 10 minutes to cool, them remove.
Makes 2 — Alternatively, you can make 3 cookies. Bake time will be slightly shorter. If baking with convection, bake at 350 for about 18 minutes.  Also, if for some reason your cookies spread too much, carefully push the edges inward before the cookies are done baking.
Note on Flour: White Lily flour can be substituted for the mixture of cake and all-purpose.. Measuring with cups isn't very accurate, and I recommend using a scale. If you don't have a scale, fluff the flour up and spoon and level it into the cups. The dough should not be too sticky to shape, but it shouldn't be dry and crumbly either.

Levain Copy Cats
A scaled up version of my original version. The mixture of cake flour and all-purpose is similar to White Lily all-purpose. If you can find White Lily, weigh out the equivalent and just use that. It's a bit softer than regular all-purpose. The cornstarch helps the dough absorb liquid from the butter and eggs, so I've added a pinch.
Ingredients
1 cup cake flour (114 grams)
1 3/4 cup all-purpose flour (220 grams)
1 teaspoon cornstarch (not critical, but helps with thickness)
3/4 teaspoon baking soda
1 teaspoon salt
1 cup unsalted butter (230 grams), Plugra or European style preferably, cold
3/4 cup lightly packed light brown sugar (150 grams)
1/2 cup granulated white sugar (100 grams)
2 large eggs
1/2 teaspoon vanilla extract
1 1/2 cups toasted and chopped walnuts
3 cups semisweet chocolate chips
Instructions
This dough must be chilled thoroughly for best results, so no need to preheat the oven.
Mix together the flours, cornstarch, salt and baking soda and set aside. It's always nice to get that part out of the way, plus it gives you time to properly measure and weigh your flour.
In a large mixing bowl, beat the butter until it is creamy. Add both sugars and beat until blended, then reduce speed and add the eggs, one at a time, and vanilla. Be sure to scrape the sides of the bowl.
Now add the flour mixture gradually, stirring or beating on low until it is fully blended, then stir in the walnuts and chips.
Turn dough out onto a clean surface and bunch it up into a big ball. Divide into 8 to 10 equal lumps. Arrange on a tray or two large plates, cover, then chill overnight.
When ready to bake, preheat the oven to 350 convection setting. I do this in a Breville Toaster Oven with Convection and bake 3 at a time for about 18 minutes. Allow them to sit and thoroughly cool. They'll seem slightly doughy in the center, but once they cool and set they taste good.
If you don't have a convection oven, heat the oven to 400 degrees F. Put the cookies in the oven and then immediately reduce heat to 350. Bake for about 20 minutes or until the cookies are browned and cracked.
Notes
Having made these about a million times in several different kitchens, I can tell you that the bake time will vary. I love making these in my convection toaster oven because it browns them quite nicely. When using a regular oven, I get the oven very hot, put the cookies in, then reduce the heat to a more reasonable temperature so the cookies will bake somewhat more evenly.
The European style butter should help curb the spreading so that you get a fatter cookies, and the walnuts also seem to contribute to a higher, fatter cookie with less spread. That said, this version spreads a little more than my version with baking powder.