Fuzz bounced back from whatever it was that made her sick yesterday. My guess is it was a combination of heat and drinking too fast, but I'm really not sure. She's as energetic as usual today, spent a lot of time jumping on the trampoline and went on two field trips.
While she was at camp, I took a field trip to Pet Smart to buy a gadget called Comfort Zone. You plug it into the wall and it emits a magical dog-relaxing pheromone which soothes stressed canines. Lizzie's not stressed during the day, but the past couple of nights have been hard on her because no one wants to play at 3 and 5 AM. I hate hearing her cry and have given in, but I don't think it's doing either of us any good.
So I'm feeling kind of zombie-like and not very ambitious about baking. I did manage to pull together a quick batch of muffins, though. This is an old low fat recipe I adapted from a book called "Secrets of Fat Free Baking". Out of all the recipes in the book, it's my very favorite. The muffins taste healthy, but they aren't rubbery or weird like some fat free muffins and they have a great flavor. They're fairly large and thanks to all the fiber and pineapple, only have 106 calories each….or at least that's what the book says. They have 4.8 grams of protein and almost 5 grams fiber. Not bad!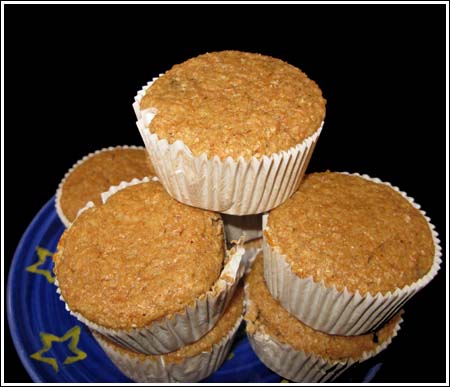 Very Low Fat Bran Pineapple Muffins
1 1/2 cups whole wheat pastry flour
1 tablespoon baking powder
1/4 teaspoon salt
1 1/4 cups skim milk (I used reduced fat)
1 1/2 cups wheat bran
1/2 cup brown sugar, packed or date sugar
1 can (8 oz) crushed pineapple, undrained
1 teaspoon vanilla extract
2 large egg whites
Combine pastry flour, baking powder and salt in a bowl and stir very well to mix.
Combine milk, wheat bran, brown sugar, pineapple and vanilla in a large bowl and let sit for 15 minutes.
Preheat oven to 350 degrees F and line 12 muffin cups with paper liners.
With a mixing spoon, beat egg whites into bran mixture. Add flour mixture and stir until incorporated.
Divide batter evenly among muffin cups and bake for 18 minutes