Okay, now that the pudding dessert is out of the way, here's today's cookie — Throwdown Chocolate Chip Cookies. Technically, they are Chocolate Chunk Cookies, but whatever.  Here's the original recipe.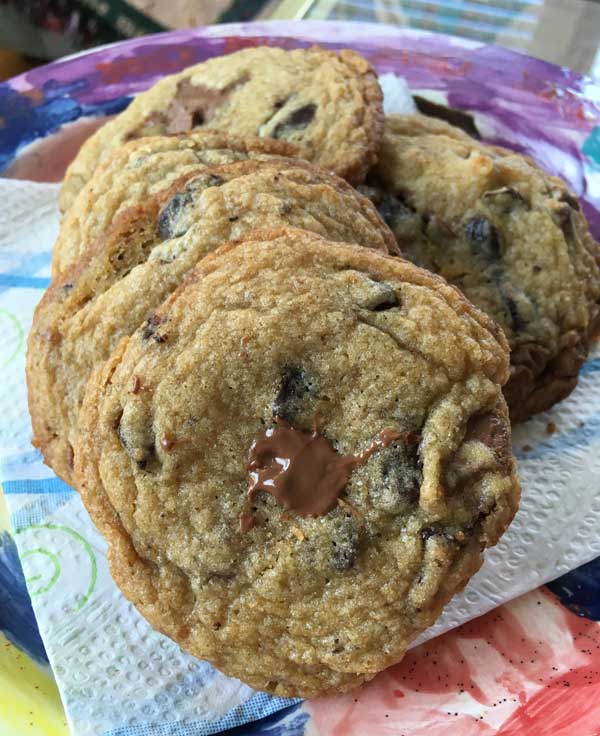 This is another one I'd been meaning to make for months. It's the loser cookie from Throwdown with Bobby Flay. And by loser, I mean the one that lost to the Levain chocolate chip cookies. So are the cookies really losers? No! Definitely not. I made a batch for a friend's birthday and she has not called to say the cookies were terrible. Furthermore, I sampled one myself and thought they were good too. However, they're different and more "chef-ish" than "housewife-is" and I like my cookies on the "housewife-ish" side.
Does that even make sense? No. But what I'm saying is that they taste a little gourmet. Bobby Flay's recipe says to use Callebaut chocolate, which is really good stuff. I think that's an important tip when making this cookies because the success of this cookie hinges on the chocolate chunks. There's not much to the actual cookie itself, which is not to say it's bad, but it's pretty much a flat and buttery vehicle for really good chocolate.
So the cookies were good overall. They should be pleasing to more gourmet palates.
One last thing. I used dark and light brown sugar — not muscovado. I'm not sure how big a difference that would have made, but I think I got the gist of these cookies.