This halve batch version of Pistachio Pudding Dessert is based on a recipe I found while hunting for green and slightly garish St. Patrick's Day treats. I didn't get around to making it March, but yesterday I stumbled across the recipe again while looking for cold, no-bake refrigerator desserts. It did require a little baking, but only enough to set the shortbread crust on which the cream cheese and pudding mixture rests. The end result was better than expected and perfect for people who like things made with pistachio pudding mix. I'm actually not one of those people, but Todd is and he loved this. I might try making it again with a different flavored pudding layer.
This version is made in an 8 inch square pan and serves about 6 people.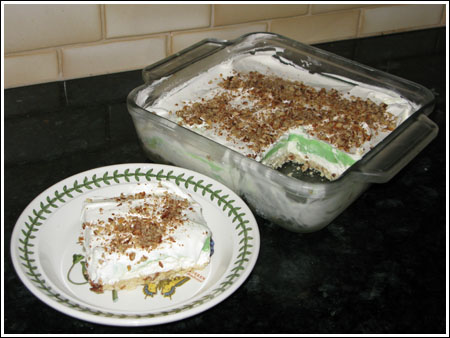 Small Batch Pistachio Pudding Dessert
6 tablespoons unsalted butter
1/4 teaspoon salt (omit if using regular butter)
1 1/2 tablespoons granulated sugar
3/4 cup flour
2/3 cup chopped toasted pecans
4 ounces cream cheese, softened
1/3 cup powdered sugar
2 1/2 to 3 cups whipped topping or sweetened whipped cream
1 (3.4 oz) box instant pistachio pudding mix
1 1/4 cups cold milk
Preheat oven to 375 degrees F. Spray an 8 inch square glass baking dish with cooking spray.
Beat together butter, salt and granulated sugar. Add flour and stir until almost blended, then stir in 1/3 cup of the pecans. Press evenly into the bottom of pan and bake for 13-15 minutes or until set. Cool completely.
Beat together cream cheese, powdered sugar, and about 1 cup of the whipped cream. Spread this mixture over the cooled crust.
Whisk pudding mix and milk together in a medium bowl for 2 minutes or until thickened. Spread pudding over cream cheese mixture. Spread remaining whipped cream over pudding mixture, then top with remaining nuts. Chill for 2-3 hours before serving.
Related posts: