The mixing technique for Old Fashioned Oatmeal Cookies is a little different. First, you soak the raisins in a mixture of eggs and vanilla for one hour. Next, you cream the shortening and sugars, but instead of adding the egg mixture to the creamed mixture, you stir in the flour mixture. At this point, you have a rather dry mixture to which you then add the egg/raisin mixture, oats and nuts.
The results are a big, fat, moist cookies with crispy edges and a ton of flavor.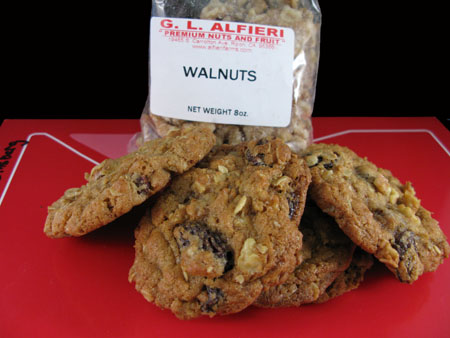 Old Fashioned Oatmeal Cookies
3 large eggs
1 teaspoon vanilla extract
1 cup raisins
1 cup shortening (regular or butter flavored)
1 cup (200 grams) dark brown sugar
1 cup (190 grams) granulated sugar
2 1/2 cups (335 grams) all purpose flour
1 teaspoon salt
2 teaspoons baking soda
1 teaspoon cinnamon
2 cups rolled oats
1 cup toasted walnuts, coarsely chopped
Combine eggs, raisins and vanilla in a medium bowl and let stand for an hour.
Preheat oven to 350 degrees F. and line a couple of cookie sheets with parchment.
Beat shortening and both sugars together in a large mixing bowl. For this, I recommend an electric mixer or, since it's a large recipe, bowl of a stand mixer fitted with a paddle attachment.
Thoroughly stir together the flour, salt, baking soda and cinnamon. Gradually add flour mixture to sugar mixture, stirring just until flour mixture is incorporated – mixture will be kind of dry. Stir in the egg/raisin/vanilla mixture, followed by the oats and nuts. When ingredients are well mixed, shape dough into 1 ½ inch balls and place 2 inches apart on parchment lined cookie sheets.
Bake at 350 for 12-14 minutes.
Makes 6 or 7 dozen
Note: To make a half batch, half everything and use 1 egg plus about 2 tablespoons of beaten egg