The cheesecake was a success and 100% free of cracks. Todd liked it and Emma seemed to, but after trying it, I knew why it had been so long since I'd made it. This cheesecake is ultra creamy. It stands up perfectly, but the texture is very smooth and creamy with less "give" then other cheesecakes. This could be good or bad, depending on your taste in cheesecake. I prefer my cheesecakes a little stiffer, which is why I'd choose Nigella's London Cheesecake over this one. But if you like a creamier cheesecake where the eggs are hardly noticeable, this one's for you.
I found this it on the Internet about 7 years ago. It was posted by a guy named David who said it was a variation on a Good Housekeeping cheesecake from 1952. If you follow Good Housekeeping, you might know that one of their cheesecakes is called "Deluxe Cheesecake" and is similar to the famous Lindy's Cheesecake which has been a standard bearer for many years.
But this recipe has many modifications. Most noticeably, it lacks Lindy's shortbread crust. It also uses regular cream cheese (as opposed to Neufchatel), is missing the 2 egg yolks and has a completely different set of cooking times and temps. In his version, David also used extracts in place of lemon zest. Despite my not really liking lemon or orange extract, I do like them mixed together with vanilla. All the extracts give the cheesecake and interesting flavor that doesn't say lemon, vanilla or orange.
I would love to get someone else's opinion of this cheesecake – especially in comparison with the Lindy's recipe.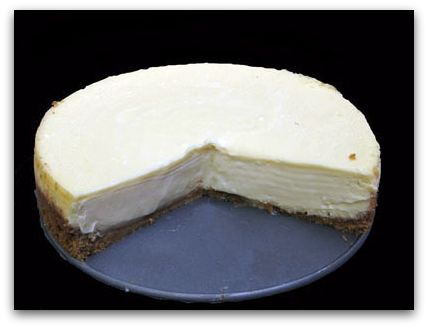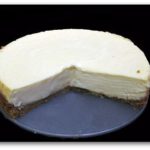 Print Recipe
Ultra Creamy Deluxe Cheesecake
A very creamy, dense cheesecake without any cracks
Ingredients
Graham Cracker Crust:
24

graham cracker squares

not rectangles, crushed

3

tablespoons

granulated sugar

6

tablespoons

melted butter
Filling:
5

8 oz packages cream cheese, softened (2 ½ pounds)

1

teaspoon

vanilla extract

1/2

teaspoon

orange extract

1/2

teaspoon

lemon extract

1 3/4

cup

granulated sugar

3

tablespoons

flour

1/4

teaspoon

salt

5

medium size eggs at room temperature

1/4

cup

heavy cream
Instructions
Preheat oven to 350 degrees F.

Prepare crust ahead of time by mixing all ingredients together and pressing into bottom and slightly up sides of a buttered 9 inch round springform pan. Chill until ready to use.

Beat cream cheese in a large mixing bowl until it is very soft and creamy. Try not to whip extra air into it. If you are using a standing mixer, use the paddle attachment and set it on a lower speed. If you are using a hand held mixer, use a low speed plus a mixing spoon.

Beat in the vanilla, orange and lemon extracts.

Stir sugar, flour and salt together in a separate bowl, then mix them (again, using lowest speed) into the cream cheese. Add eggs one at a time, mixing thoroughly after each egg.Add cream and stir or beat on low until it is incorporated. Pour the batter into the pan.

Set the pan in a cool spot and let it sit for 5 to 10 minutes. Air bubbles will rise to the top during the standing period which will help the cheesecake bake up denser.

Bake the cheesecake on at 350 degrees F for 15 minutes.

After 15 minutes, without opening the oven door, reduce the heat to 200 degrees and set the timer for one hour. After cheesecake has baked for one hour at 200, turn off the oven and open the door slightly. Cake will appear wiggly and uncooked in the center, but the edge should be set. Let cool in the oven (door ajar) for 15 minutes. Transfer to counter and carefully loosen edges with a knife – this will help prevent cracking during cooling.

Cool on a rack at room temperature for about an hour. Transfer to refrigerator for the final chill. The cake should be ready to serve after 3 hours, but it's better after 12, so if you can wait, then serve it on Day 2.
Notes
Cook time takes into account a thorough chill time. Cheesecake is usually better on Day 2.