I really thought I'd made this "one bowl cookie recipe" before, but apparently I haven't because if I had, I would have remembered. These were very, very good – attractive, chewy, crispy, thick and able to be made in one bowl, which I found out this morning during testing.
The original recipe, for those who haven't made this one yet, is here.
Below is the one bowl method I used. The dough required some chilling to be scooped properly, but it didn't spread too much when baked.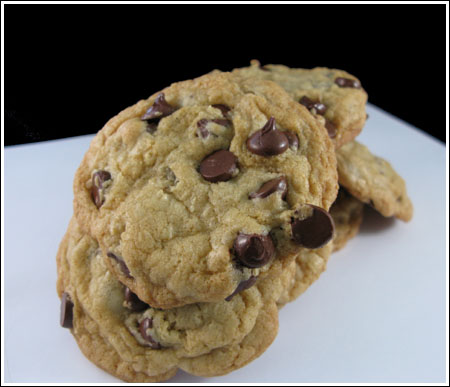 Another One Bowl Chocolate Chip Cookie Recipe
12 tablespoons unsalted butter
1 cup packed light brown sugar
1/2 cup white sugar
2 teaspoons vanilla extract
1 egg
1 egg yolk
1/2 teaspoon baking soda
1/2 teaspoon salt plus an extra pinch (1/8 tsp)
2 cups all-purpose flour (9 oz)
2 1/2 cups semisweet chocolate chips (feel free to add more)
Melt butter in a large microwave-safe mixing bowl. Beat both sugars into melted butter. Let cool for about 5 minutes, and then beat in vanilla, egg and egg yolk.
When mixture is well blended, beat in baking soda and salt, scraping sides of bowl to make sure baking soda is evenly distributed. Add flour and stir just until it is mixed in. Add chocolate chips. Chill dough for 1 hour or until pretty firm.
Preheat oven to 350 degrees F. Line baking sheets with parchment.
Scoop up tablespoonfuls of dough and drop 1 inch mounds (approx) onto cookie sheets spacing about 3 inches apart. Bake for 13-15 minutes or until cookies appear done and lightly browned around edges.
Cool on sheet for 5 minutes, then transfer to a rack to finish cooling
Makes 18-24, depending on how bit you make your mounds and whether or not you add the extra chips
Related posts: