Hello from Home,
I didn't sleep much last night and am having a hard time focusing, but I do have a lovely photo. This is from yesterday, which was my last day in San Francisco. I had a 4:00 flight out, which meant there was time to drop by the Hotel Vitale (with luggage in tow) for a food blogger meet-up arranged by Amy and Kalyn.
After leaving my luggage with the bell stand and taking a long walk along the Embarcadero, I headed back to the hotel restaurant and waited for the food bloggers to arrive. Luckily, I wasn't nearly as anxious as I'd been at the Newbie Mixer and when people arrived, I felt I knew them already.
Long story short, it was a wonderful afternoon and I even worked up the nerve to ask Susan's husband to take a picture. Here are a few of us.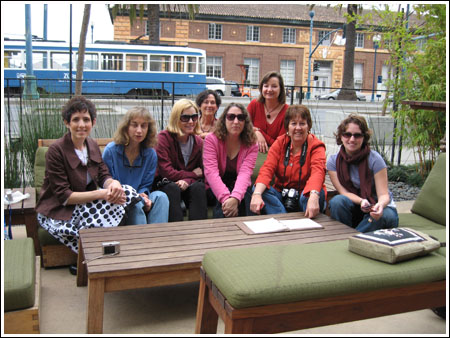 Pictured from left to right
Susan from Food Blogga
Simona from Briciole
Anna (Me) Cookie Madness
Christine from Christine Cooks
Amy from Cooking With Amy
Biggie Lunch in a Box
Kalyn from Kalyn's Kitchen
Claire from Cook Think
After this photo was taken, more people arrived. I chatted with Sam from Becks and Posh and met Chuck from Sunday Night Dinner , Sean from Hedonia , Lynda from TasteFood and many others.  Unfortunately, I am blanking out on names and need to gather all my business cards together so I can match blogs with faces, but I enjoyed meeting each and every person!
Now onto today's cookie!
Related posts: